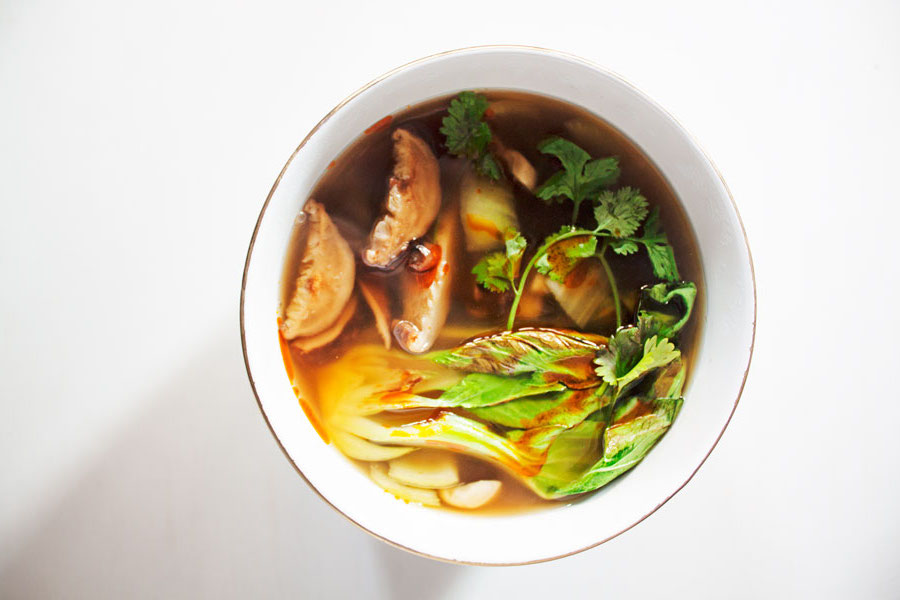 When it's cold outside, my favourite food is soup. Recently, I've been craving something ultra-soothing, warm, and spicy; and this broth is my go-to recipe.
If the internet is any indication, "bone broth" is all the rage lately. Food people across the interwebs have been waxing poetic about its healing, collagen-boosting properties; encouraging everyone to sip on bone broth all winter long. Obviously this is not an option for vegetarians, but the idea of sipping on a healing, minimal, restorative broth is one that I held on to.
This Asian style spicy broth might not have the same collagen boosting properties as a traditional bone broth, but it's just as comforting; perfect for when you need a reset button. Using different types of mushrooms and soy sauce gives the broth a really wonderfully layered umami flavour, and the kick of chilli is what keeps me going back for more. You can also include some soba noodles or rice noodles to make this a more wholesome meal.
This broth is healthy, and packs a ton of flavour. It's the ultimate comfort food for those days when you want a reset, something to wash away bad-day feelings with.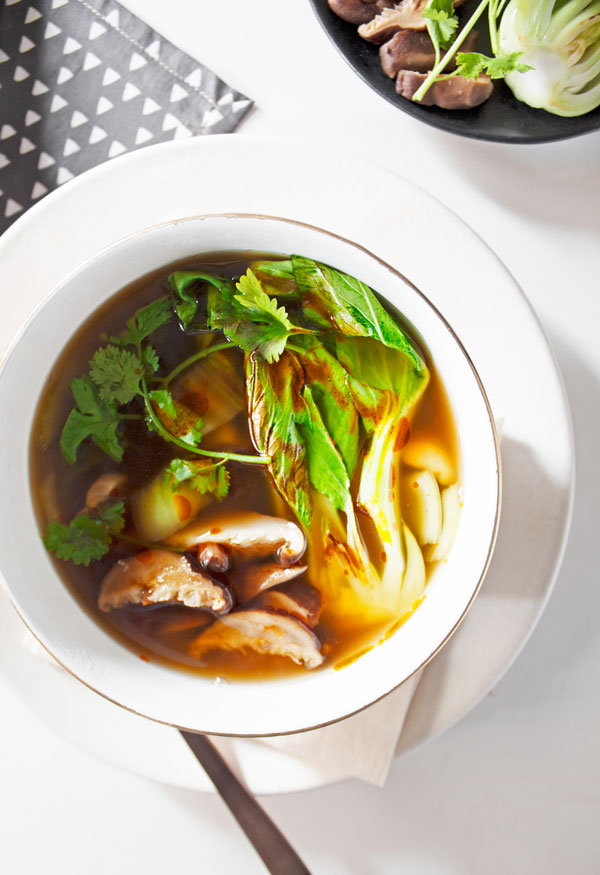 Asian Style Spicy Broth
INGREDIENTS
2 stalks lemongrass, greens removed and stalks chopped to 1 inch pieces
A handful of kaffir lime leaves
2 inch chunk of galangal root, lightly smashed
2-3 cloves of garlic
1 small onion, chopped into chunks
6 shiitake mushrooms (fresh or dehydrated), thinly sliced
A few whole black peppercorns
½ teaspoon salt
2 tablespoons soy sauce
1-2 tablespoon rice wine vinegar
A pinch of sugar
½ -1 tablespoon chilli garlic paste (more to taste)
1 cup white button mushrooms, thinly sliced + 6 more mushrooms, sliced and sautéed (kept aside)
1 medium sized carrot, peeled and cut into matchsticks
1 baby bok choy, stems (chopped into 1 inch chunks) and leaves
For the garnish:
A few sprigs of fresh coriander
Chilli oil
INSTRUCTIONS
In a large saucepan, place the lemongrass, kaffir lime leaves, galangal root, garlic, onion, shiitake mushrooms, and a few black peppercorns; cover with 1½ litres of water and bring to a boil. Once boiling, reduce it to a simmer and cook for about 15-20 minutes over gentle heat. Season with salt.
Strain the broth and discard the solids. You can reserve the shiitake mushrooms to add to the soup later. Return the broth to the saucepan; add the soy sauce and rice wine vinegar. Also add a pinch of sugar and the chilli garlic paste.
Taste and adjust seasoning. Add more soy sauce/salt for saltiness, vinegar for acidity, and more chilli garlic paste for spiciness.
Bring the broth to a simmer over medium heat, and then add the reserved shiitake mushrooms (if using), sliced raw mushrooms, carrots, and bok choy. Cook until the vegetables are slightly tender, about 4-6 minutes.
Divide the sautéed mushrooms that you kept aside earlier into two bowls, and ladle the soup over it. Garnish with sprigs of coriander and a few drops of chilli oil.
*Note:
Add a pinch of ground turmeric while simmering the broth for its anti-inflammatory and restorative properties.
Did you make this recipe?
Let us know: leave a comment, or tag @sprigandvine.in on your photos on Facebook and Instagram with the hashtag #goodfoodpractices
---