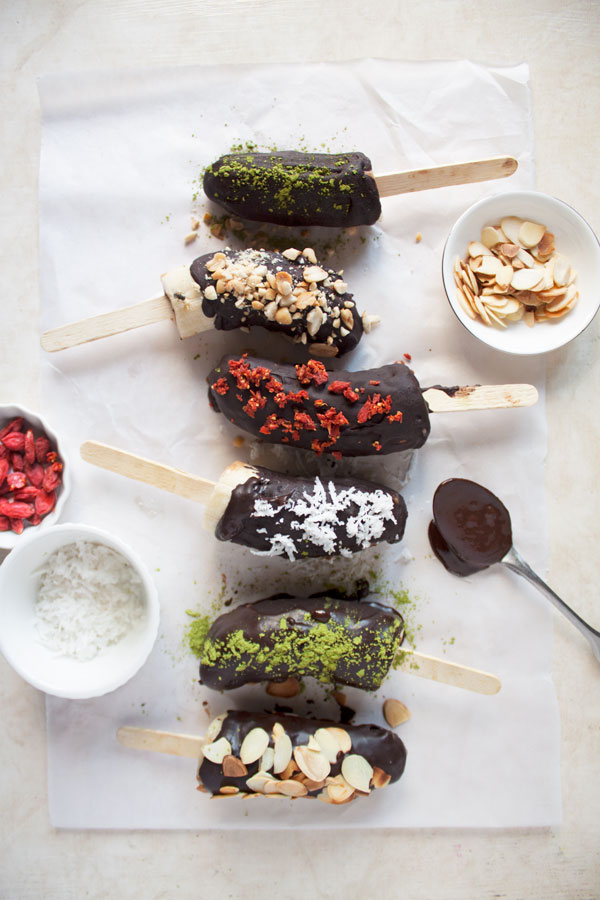 It's almost Halloween…a holiday that doesn't hold much significance here in India, but in the US it's a totally different story.  I was first introduced to Halloween when I was a student there. Come mid October, decorations and pumpkins started appearing everywhere, everyone was discussing Halloween costumes, and the candy aisles were brimming with Halloween specials!
Americans have a strong love for their candy, and there's probably no other time of the year when so much candy gets consumed. While I love my fair share of candy, I also now realise how bad that stuff is – full of sugar, high fructose corn syrup and who knows what else.
Though I enjoy candy myself occasionally, I also like making healthier treats to keep on hand when the sugar cravings hit hard!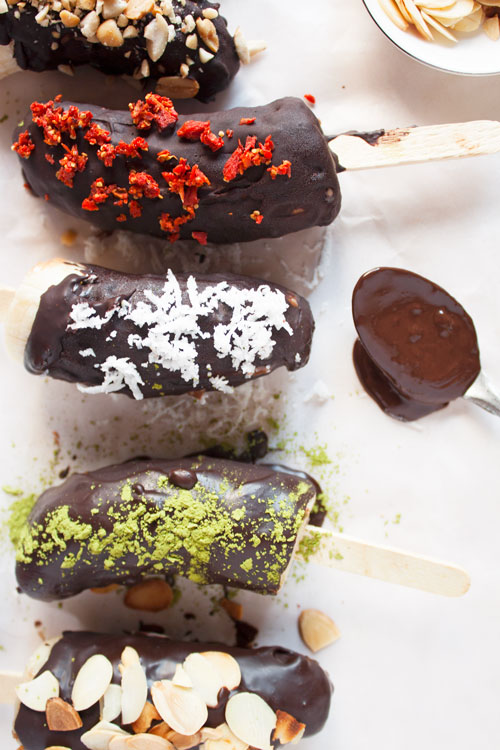 These banana pops are a great alternative to unhealthy candy. They are easy to make, and great to customise. You can make them with as little as TWO ingredients, and use whatever toppings you like. The frozen banana is so creamy and sweet, almost like ice-cream.
As for toppings, if you're going the healthy route, choose from nuts, seeds, dried fruit, coconut, matcha, cacao nibs. If you're looking for something a little more indulgent use Oreos, chocolate chips, pretzels, marshmallows or sprinkles. Even crushed potato chips taste really good with the sweet chocolate – weird I know, but SO good!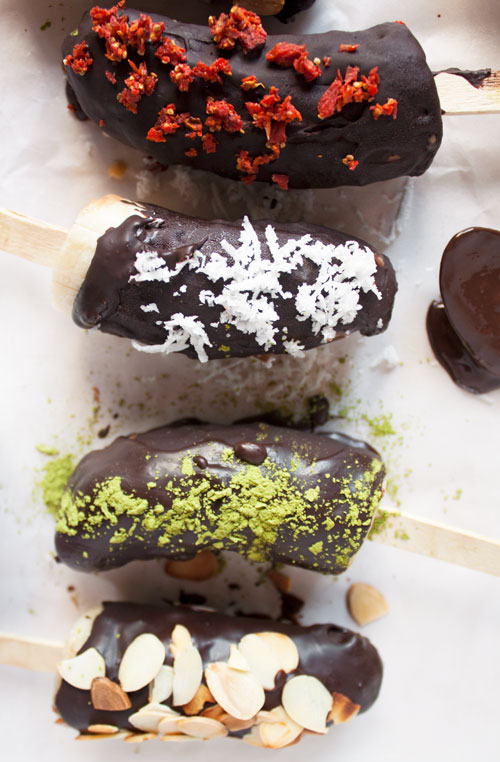 This is an amazing naturally sweetened candy alternative for kids – it's covered in chocolate, tastes like ice cream, and fun to eat. The process is so easy that kids can even get involved in making them and customise the toppings according to their choice.
Make a few of these banana pops and stock them in the freezer for sweet treats on hand, and they're sure to be loved by kids and adults alike!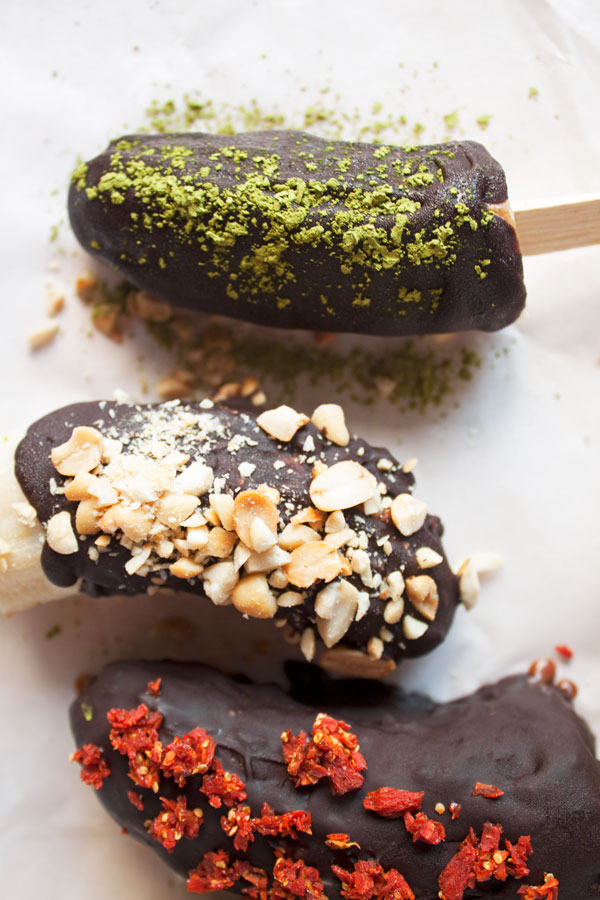 BANANA POPS
INGREDIENTS
3 bananas
200g melted dark chocolate
Toppings: crushed nuts (peanuts, hazelnuts, pistachios), toasted almond flakes or pumpkin seeds, goji berries, matcha powder, desiccated coconut, orange zest, dried fruit, dehydrated fruit pieces, cacao nibs, crushed Oreos, bee pollen, rainbow sprinkles…
INSTRUCTIONS
Line a plate or sheet pan with baking paper.
Cut the bananas in half widthwise, and push a popsicle stick through the flat cut side.
Melt the chocolate in a double boiler. Dip the bananas in the melted chocolate and place them on your lined tray. Alternatively, you can also place the bananas on the tray first and drizzle the melted chocolate over it.
Sprinkle your toppings of choice on the chocolate covered bananas immediately so that they stick. I used crushed peanuts, toasted almond flakes, desiccated coconut, matcha powder, and crushed goji berries for mine.
Freeze for 3-4 hours before serving.
*Note:
To melt chocolate in a double boiler: heat water in a pot. When the water starts to simmer, place a glass or stainless steel bowl with the chocolate so that it sits just inside the water pot, but does not touch the simmering water. Slowly stir the chocolate with a rubber spatula as it starts melting with the steam.
Did you make this recipe? What are your favourite toppings for banana pops?
Let us know: leave a comment, or tag @sprigandvine.in on Facebook & Instagram with the hashtag #goodfoodpractices.