Holiday season gift-giving is all about showing your near and dear ones you really care. It means picking out thoughtful, creative, and exciting gifts, which — let's be honest — can be quite the daunting task. You want to make sure your gift is appreciated and used, not wrapped up in original packaging and left in the back of the cupboard to be re-gifted when the opportunity arises (we've all done that at some point; no shame in the game). Let's aim for the first one, though. 
We've put together the most comprehensive gift guide you'll find on the internet; it's got something for everyone! Whether you're a planner who buys gifts ahead of time (not me), or scrambling to get something delivered the next day through Amazon Prime, we've got you covered. Our 2017 gift guide includes ideas for every type of foodie you know: the cook, the eater, and the one who's just there for the booze. 
THE HEALTHYISH BAKER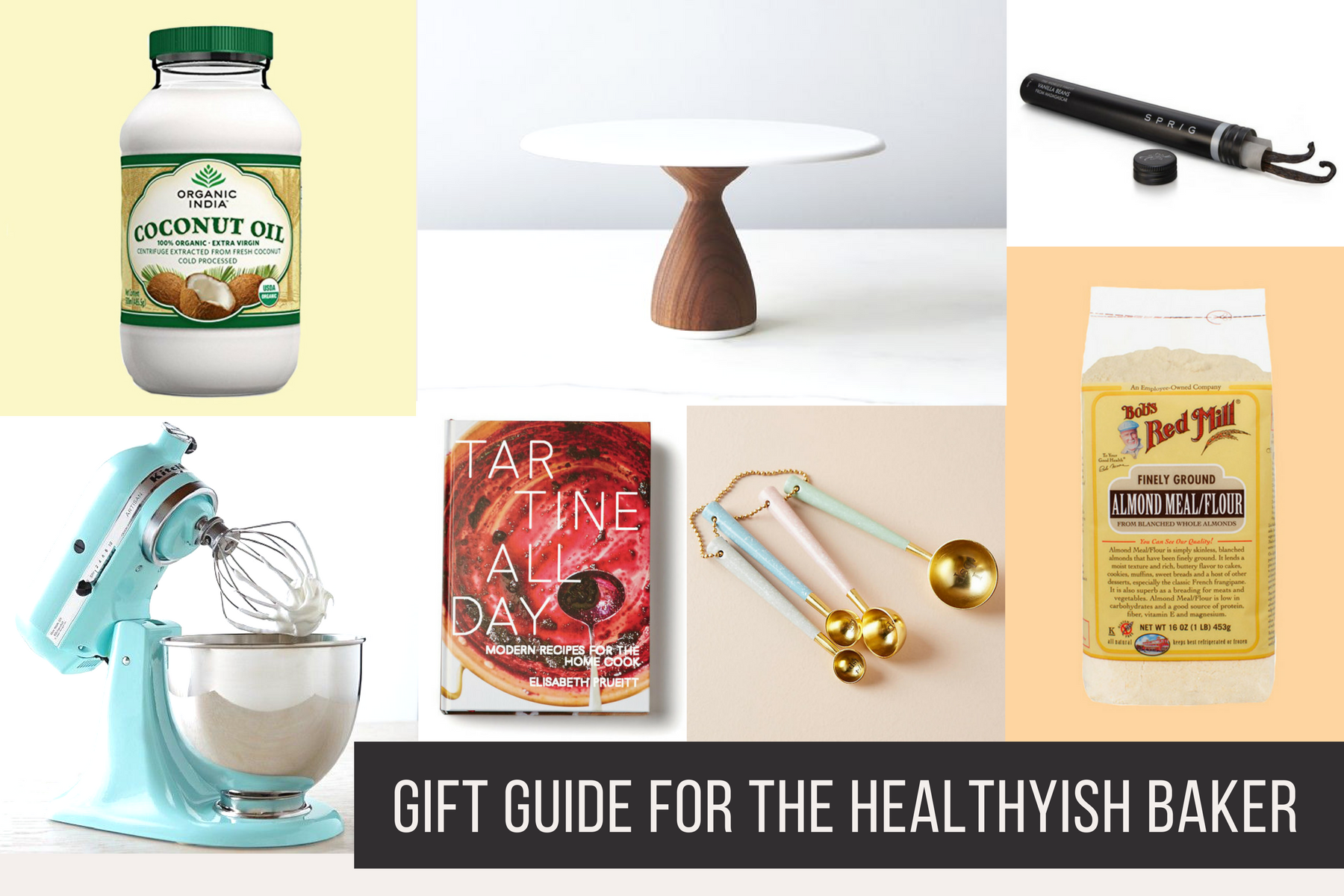 When you're shopping for a master pastry chef who is also a health nut, things can get a little bit tricky. They're most likely to be experimenting with alternative flours like almond meal or cassava flour, making all kinds of raw, vegan, gluten-free, refined sugar free type deliciousness.
Ingredients like cold-pressed coconut oil (for the healthy fats), alternative flours, and essential spices and seasonings are always welcome. Give their kitchen an upgrade with handy tools like the pretty pastel measuring spoons, or a Kitchen-Aid stand mixer. We also love the Tartine All Day cookbook, an invaluable collection of recipes that reflect the way modern cooks bake at home using whole-foods. Round it up with a pretty cake stand (I recommend marble and wood) to display all their gorgeous creations!
These are classic items that they'll love, and will hopefully let you sample some of the treats whipped up using the gifts!
SHOP ITEMS:
Organic India cold-pressed Coconut Oil, Bob's Red Mill Almond Meal, Sprig Gourmet Vanilla Bean Pods from Madagascar, Marble + wood cake stand from Nicobar, The Tartine All Day cookbook, Kitchen Aid Artisan Mini stand mixer.
---
THE TRENDY VEGAN
The trendy vegan won't eat anything with cheese and loves all things chickpeas or cauliflower. They will also get you to try things like macadamia nut milk, aquafaba, and nutritional yeast.
Every vegan spends tons of money buying packaged nut milk, so this nut milk kit with a reusable nut milk bag is going to a favourite (include a print out of this handy guide so they can make nut milk at home!). Gift them a spiralizer for endless zoodle recipes, and agave to sweeten smoothies and almond mylk matcha lattes with. We also have vegan-approved single-origin chocolate.
Bonus: the Vegan cookbook that has over 500 recipes, probably the only comprehensive cookbook they'll ever need!
SHOP ITEMS:
Vegan cookbook, Spiralizer, organic Biona agave, Mason & Co. vegan chocolate bars.
---
THE HOST WITH THE MOST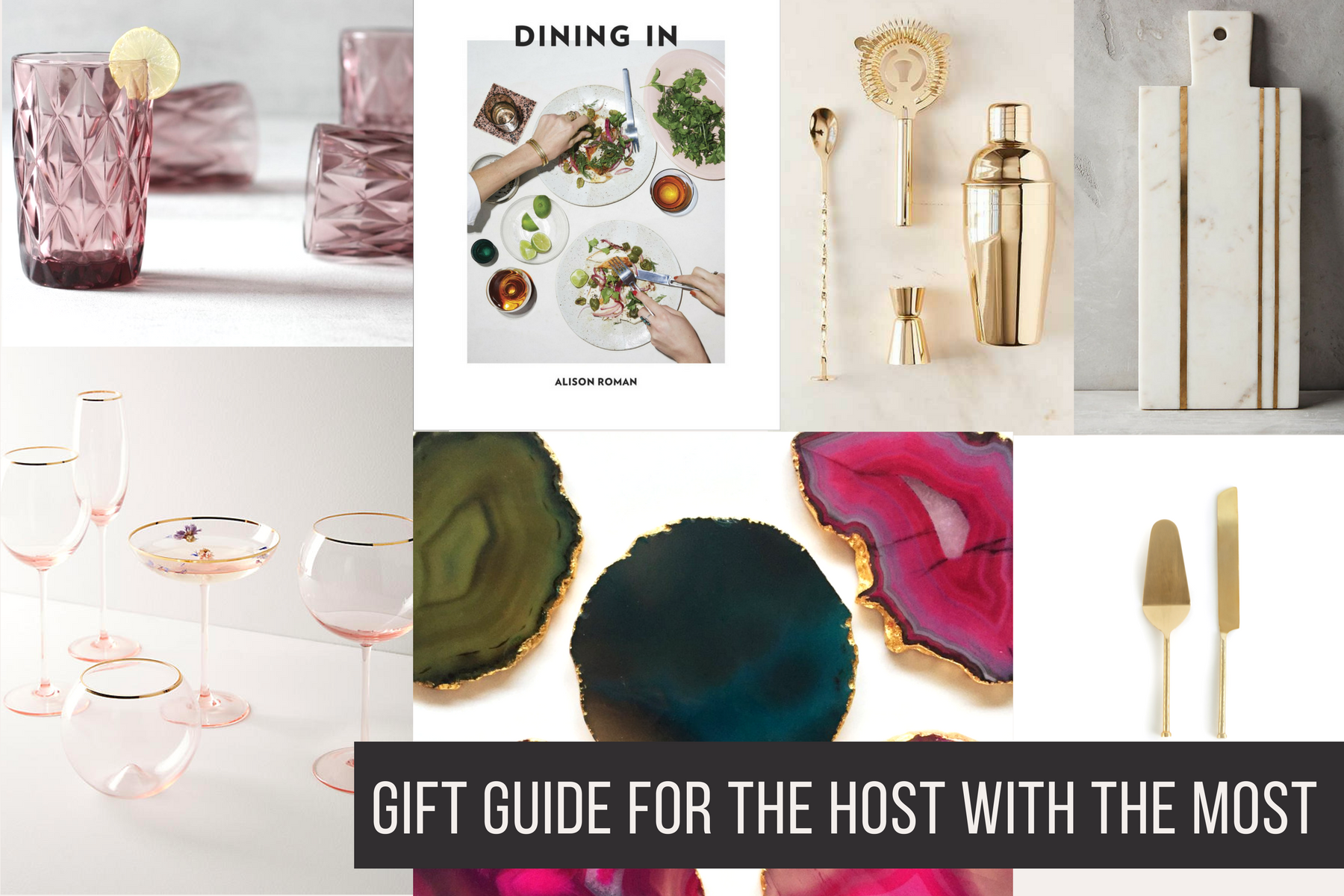 The host with the most is one who's home is always party-ready. Drop in for an impromptu happy hour, or get invited over for a stylish winter brunch; you'll always find their bar cart impeccably stocked. Making plans for Saturday night? Their home is always the first option! These gifts will be much appreciated, and displayed with pride at their next to-do.
Any seasoned host needs a well-stocked bar, and for that we recommend stylish glassware and stemware, trendy agate coasters, and a gilded cocktail maker set. A cheeseboard and cake serving set is essential to any celebration, and this marble and gold combination is a sure to be a crowd favourite.
Not to miss: Food is central to any gathering, and which is why the Dining In cookbook is a solid choice for any host to have. Its got easy yet super stylish recipes that can easily be made at home.
SHOP ITEMS:
Stylish drinkware from Home Artisan, Marble cheeseboard from The Label Life, Agate coasters from The Style Salad, Gold cake serving set from Nicobar, Dining In cookbook.
---
THE GLOBAL GOURMAND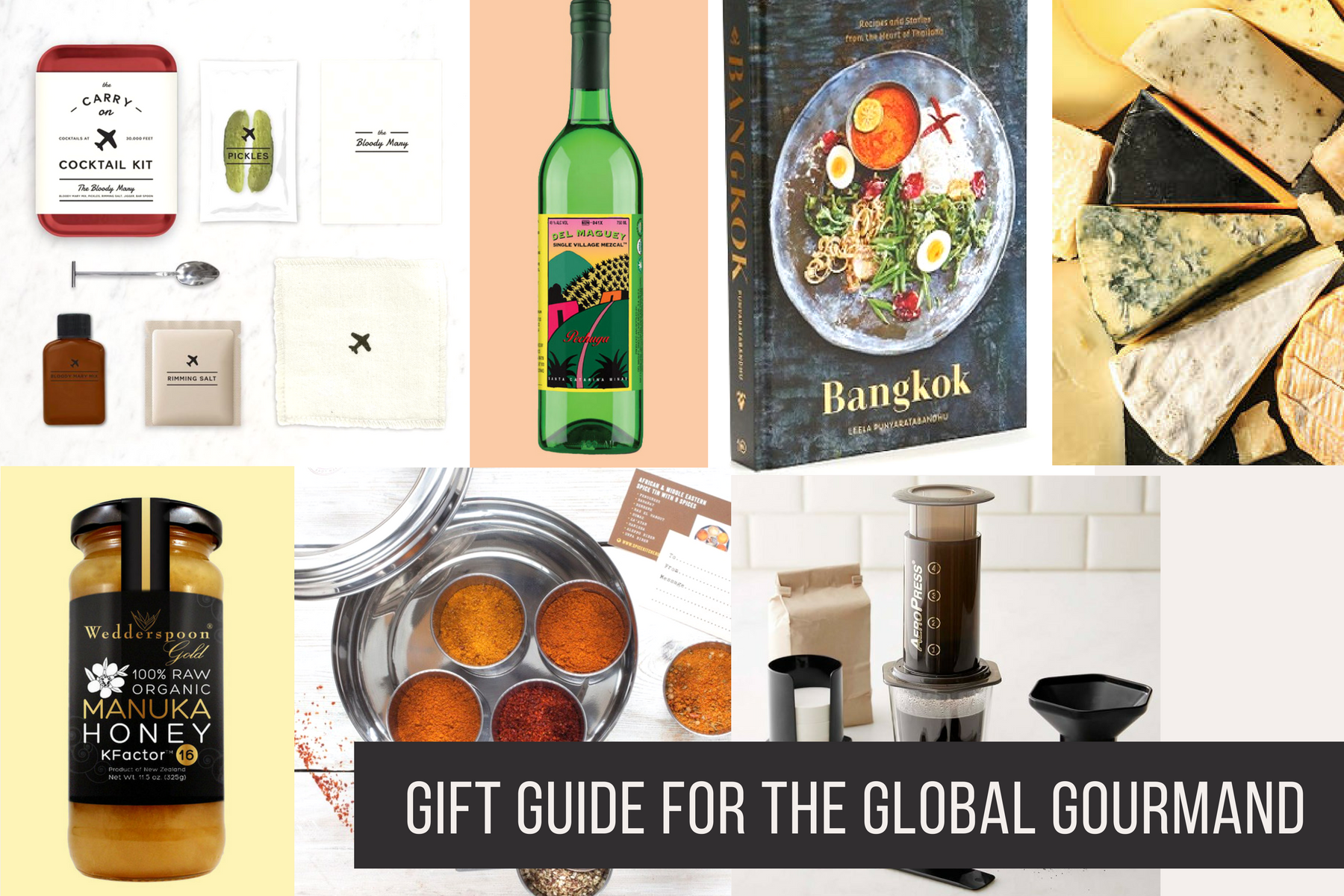 Gifts for the well-traveled foodie need to be as eclectic as their food preferences. No ordinary cookies will do, no. Whether it's a fashionable cookbook with exotic ingredients, an artisanal booze kit, or a treat from a far away land; the global gourmand only deserves gifts that will cater to their inner eater's wanderlust.
Artisanal food items sourced from all over the world are always a hit: cheeses from France and Switzerland, honey from New Zealand, or spices from the Middle East. For the booze loving frequent flier, buy a bottle of mezcal (the smokier version of tequila) from Mexico, or a carry-on cocktail kit for artisanal cocktails at 30,000 ft. We are also loving the Bangkok cookbook for colourful + flavourful recipes from the streets of Thailand!
SHOP ITEMS:
Carry-on Cocktail Kit, Wedderspoon raw Manuka honey from New Zealand, Aeropress Coffee Maker from Blue Tokai, Bangkok cookbook.
---
THE WELLNESS OBSESSED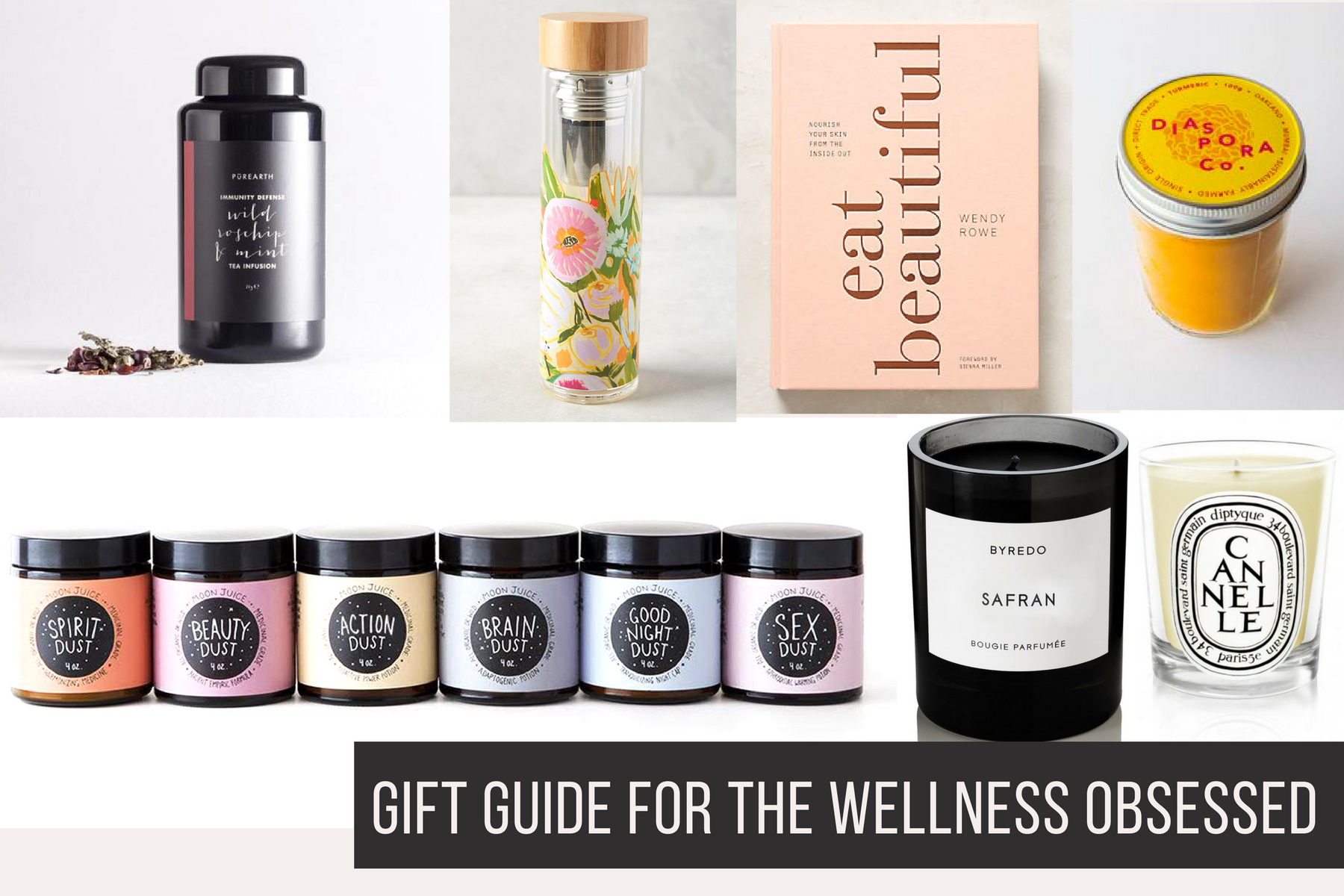 This gift guide is for the turmeric obsessed, kombucha loving, coconut oil pulling, wellness obsessed one. Their ideal morning consists of yoga and tea; and they have fantastic recipes for tonics, buddha bowls, and other nourishing foods up their sleeve. Their quest for wellness often takes them to exotic locales, for detox retreats and mindfulness. These goodies will definitely help them further their wellness journey into the new year!
Bring them artisanal teas and tonics, superfood supplements and miracle powders. Include a candle or two for a calming meditation session.
SHOP ITEMS:
Pure Earth Wild RoseHip & Mint Tisane, Diaspora Co. fair-trade turmeric, Moon Juice adaptogeneic-blend superfood powders, Diptyque scented candle in Vanilla, Byredo scented candle in Safran + Black Pepper, Eat Beautiful cookbook
---
THE INSTAGRAM FOODIE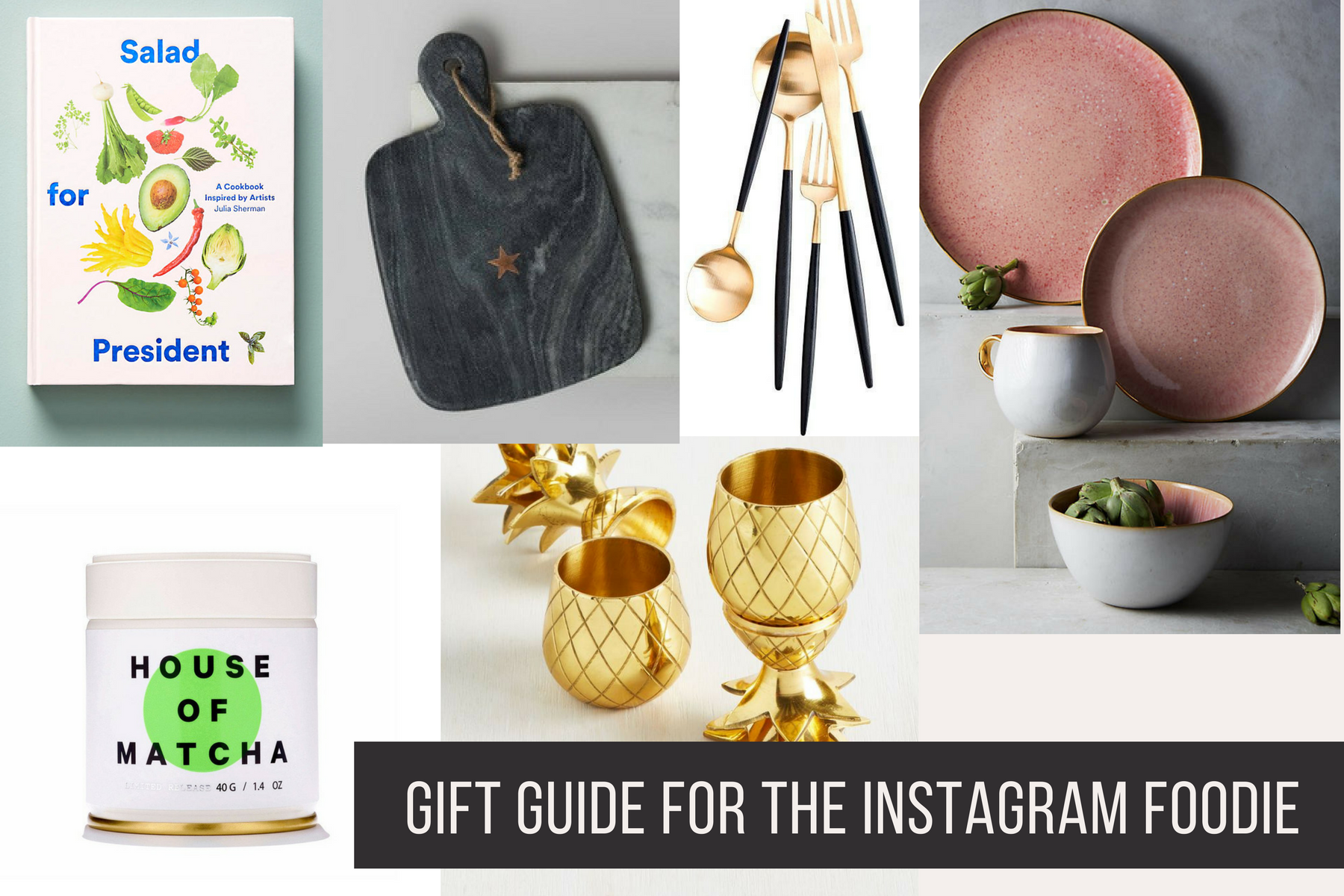 Gifts for those who love and live the curated life. They visit the trendiest cafés, seated at the table nearest to the window (for all the natural light), standing on their toes to get the perfect top shot of their trendy matcha latte. What else will you find on their Instagram feed? Activated charcoal ice cream, lattes, donuts, and tacos… with a generous dose of millennial pink, of course!
We recommend gifting them gorgeous serve-ware for stylish 'grammable opportunities: millennial pink ceramics, a gorgeous marble cheese board, and gilded pineapple tumblers (that are also bang on trend). You also can't go wrong with some ceremonial-grade matcha powder (so they can whip up lattes that are all over Instagram), and graphic cookbooks for endless inspiration on styling and food photography!
SHOP ITEMS:
Blush ceramic plates from FreedomTree, Grey Marble Cheeseboard from Nicobar, Gold Pineapple Tumblers from W&P Design, Salad for President cookbook, Ceremonial grade matcha powder sourced from Japan from House of Matcha.
---
FYI: The products and services recommended in this gift guide are ones that we've personally tried or have on our wishlist. We do not get paid to promote these products.