Can you believe it's already Thanksgiving week? This might not be a big deal here, but during my time in the US, I had grown to love the holiday weekend. The first time I attended Thanksgiving dinner was when a friend invited me to celebrate with her family. Though I couldn't participate in the traditional turkey extravaganza being a vegetarian, my plate was piled high with tons of delicious food (with some special veggie additions just for me!). Needless to say, it was a great experience.
The focus of any Thanksgiving meal might be the turkey, but ask anyone, and they'll tell you that the sides on the dinner table are equally, if not more important than the bird itself! Mashed potatoes, green beans, salads, breads, and the desserts… pumpkin and pecan pie!
Though families have their own traditions of what is they make for the holiday dinner, the one thing that has a permanent spot on the Thanksgiving table is mashed potatoes. Some type of mashed potatoes is essential to the feast.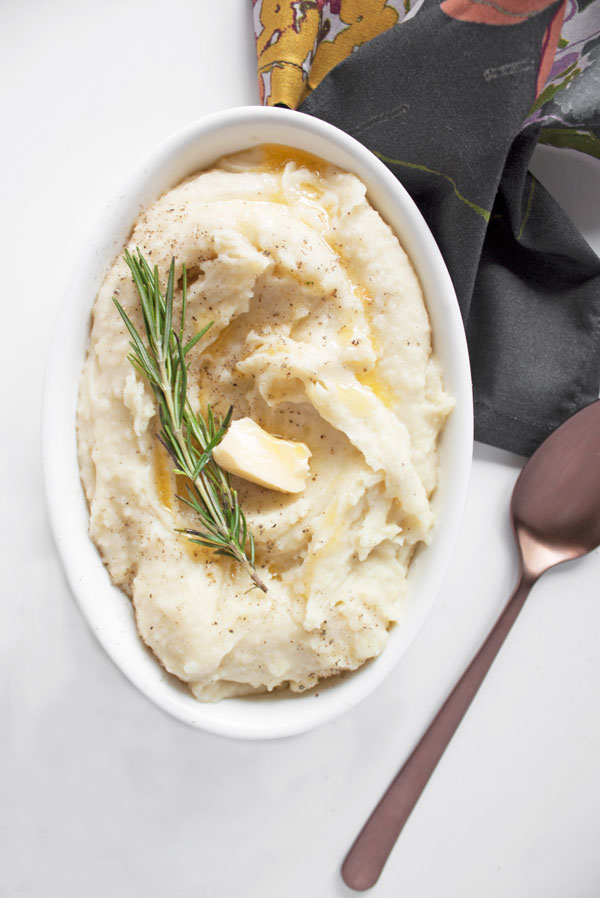 Of course, you don't need to celebrate Thanksgiving to make mashed potatoes. Creamy, fluffy, yummy potatoes is the perfect comfort food that can be enjoyed anytime! I also love making them as a side along with sautéed vegetables, or using them as a filling for veggie tacos.
Here are a few tips for making the best ever mashed potatoes:
Keep your potatoes hot – even while mashing!
Add the fat (aka butter), before you add the liquid (milk/cream).
Use room temperature butter, but warm milk. Definitely not cold. Ever.
Add some more butter in the end! Treat your self.
To make your humble spud a little fancy, infuse your liquid with aromatics like herbs and garlic before adding. Try rosemary, thyme, sage, bay leaves…
Season, season, season. Taste and adjust the seasoning at every step and don't leave it for the end.
Variations:
I love classic mashed potatoes, topped with chopped herbs like chives or parsley. You can even top with finely chopped green onions.
Mix in a tablespoon of sour cream with your mash for some tanginess.
Drizzle a dab of truffle oil over a classic mash.
Mix in some fresh pesto for pesto mashed potatoes.
Top with chopped roasted garlic for garlicky mashed potatoes.
---
MASHED POTATOES
INGREDIENTS
½ kg potatoes
⅓ cup full fat milk (plus more)
Aromatics: A few sprigs of rosemary, thyme; or a few cloves of garlic (optional)
2 heaped tablespoons butter (plus more)
Salt and pepper, to taste
INSTRUCTIONS
Boil the potatoes whole (with their skins) in a pot of generously salted water until tender.
Meanwhile, in a small saucepan, heat milk (and aromatics like sprigs of rosemary, thyme, bay leaves; or garlic cloves, if using) over medium heat until it starts simmering. Rosemary is my favourite - rosemary and potato are a classic combination.
Once the potatoes are tender, pass the hot potatoes through a ricer (the ricer will catch the peels). Alternatively, peel and grate the potatoes to form a fluffy mash. If the potatoes are allowed to cool, they will become gummy and chewy.
Add 2 heaped tablespoons of room temperature butter to the riced potato mash and mix to incorporate.
Remove herbs and/or garlic from the warmed milk and discard. Gradually add the infused milk to the potatoes, stirring vigorously until combined and smooth.
Taste and adjust seasoning.
Serve warm mashed potatoes topped with a pat of butter.
Tip: This can be prepared in advance; to reheat, just stir in a few splashes of warm milk while heating gently over medium heat.
*Note:
Think of the quantities of milk and butter as guidelines. You might need a bit more or less. Taste and adjust accordingly.
---
Did you make this recipe?
Let us know: leave a comment, or tag @sprigandvine.in on your photos on Facebook and Instagram with the hashtag #goodfoodpractices