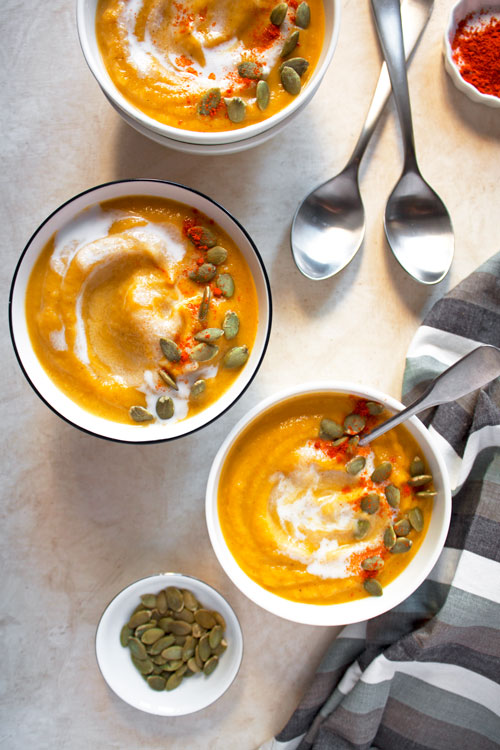 Can you believe it's October already?
October ushers in a new season and an exciting part of the year. The weather starts getting cooler (hopefully), and the festive season is on in full swing here in India. And, if the number of pumpkin things popping up on my social feeds is any cue, it's also "fall" in parts of the world.
Fall in America meant cold weather, and obsession for all things pumpkin. Never before did I understand the versatility of this ingredient better than when I was in the US! I learnt to love pumpkin spice lattes, pumpkin bread, and the customary pumpkin pie on Thanksgiving.
Pumpkin, along with other varieties of squash, is wonderful for roasting.
Roasting vegetables was such an unexplored technique for me, but I've recently discovered what just some time in the oven can do for flavour. Think a firm yet tender vegetable with a beautifully caramelised and golden exterior, and the wonderful toasted flavour.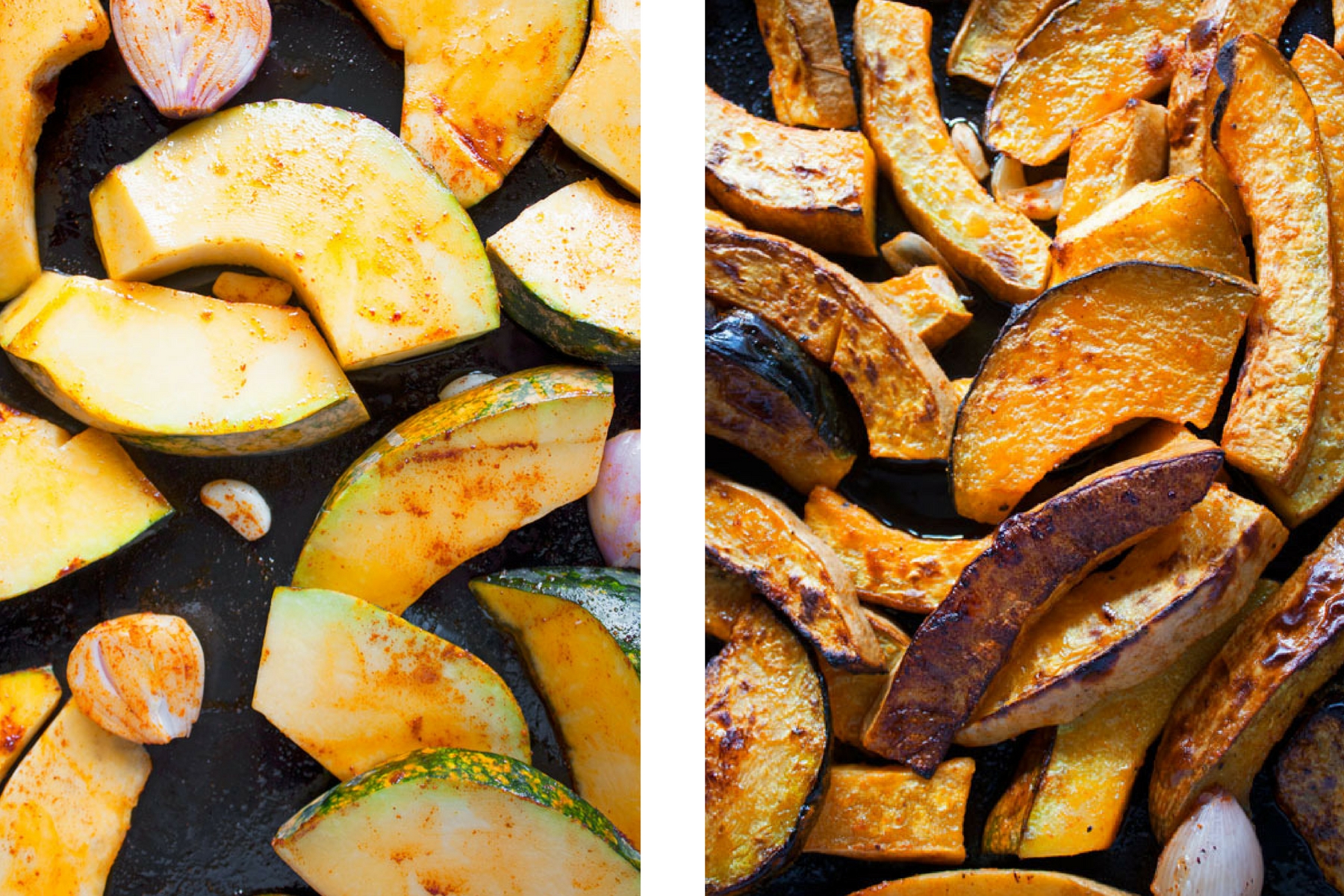 The pumpkin roasts beautifully, and its golden flesh can be used in a variety of ways. I made this roasted pumpkin soup on a rainy day a few weeks ago, and it was sooo good. It's creamy, hearty, warm, and comforting… basically everything you want from a fall/winter soup.
This recipe comes together quite easily. I roasted the pumpkin, onions, and garlic all together (with some olive oil and seasoning) in the oven for a bit, and then put it all in a blender. Then, I heated the puréed mix in a saucepan with coconut milk for a really creamy, thick soup.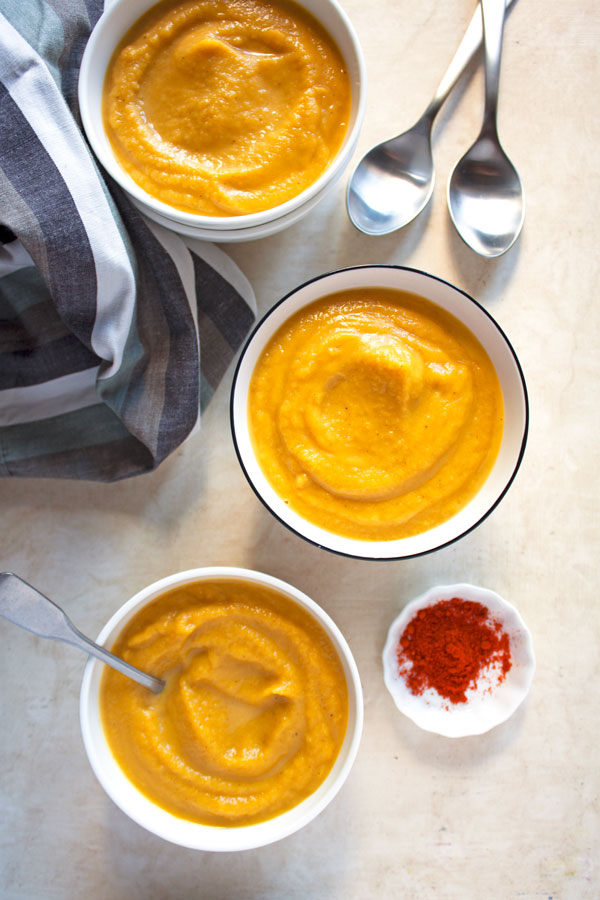 The cayenne pepper and smoky paprika go really well with the almost sweet pumpkin, and you get a nice kick of spice.
I like to top my bowls of soup with some pepitas (pumpkin seeds) for a bit of crunch. I think this soup would go well with toasted almond flakes too.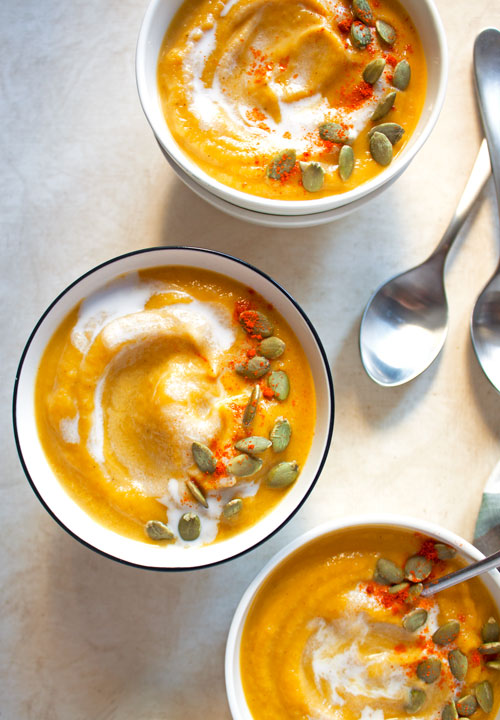 The recipe makes quite a big batch, so you can easily freeze it for pumpkin soup throughout the week. (It will last in an airtight container in the freezer upto a month).

CREAMY ROASTED PUMPKIN SOUP
Serves:
10, as an appetizer or side
INGREDIENTS
3.5 kg pumpkin (or ~ 5 packed cups pumpkin puree)
2 medium onions, peeled and halved
5-6 cloves garlic, peeled
Olive oil (enough to coat, about ¼ cup)
½ teaspoon smoked paprika
Cayenne pepper, to taste
Salt and pepper
5-6 cups of vegetable stock (or water, + more for thinner soup)
1 cup coconut milk
Toppings: coconut milk, toasted pepitas, smoked paprika
INSTRUCTIONS
Preheat oven to 220° C.
Prepare the pumpkin by slicing it into 2-2½ inch wedges. Place the slices on a baking sheet with the onions and garlic cloves.
Coat with olive oil and season with smoked paprika, cayenne pepper, salt and pepper. Toss (preferably with hands) to combine until well coated on all sides. Let it cook in the oven for 20-25 minutes or until golden brown and tender (check tenderness with a fork).
Once cool enough to handle, remove the skins off the pumpkin.
Place the pumpkin flesh, roasted onion and garlic with the vegetable stock (or water) in a blender. Blend until smooth. Work in batches until all of it is well blended and smooth - add more stock or water for a thinner soup and less for a creamier one. This soup is meant to be a hearty, thick and creamy soup which is just the way I like it - but I've found that some people prefer it thinned down. Keep adjusting until you're happy with the consistency, but make sure you season accordingly.
Strain the mix through a sieve using the back of a ladle. This will ensure that your soup is creamy and smooth. This step is optional but recommended!
Place the puréed and strained mix in a saucepan on low heat. Stir in the coconut milk and let it simmer gently. Season with salt and pepper.
Ladle the soup into bowls and finish with toppings. I like to top mine with just a tinge of coconut milk, some pepitas for a crunch, and a sprinkle of smoked paprika.
Did you make this pumpkin soup recipe?
Let us know: leave a comment, or tag @sprigandvine.in on your photos on Facebook and Instagram with the hashtag #goodfoodpractices