As some of you already know, I was in Italy for a few weeks this summer. Now I had two main things on my bucket list for Italy: 1. Consume a ton of cheese, gelato, and wine… and 2. learn how to make pasta. I'm happy to say, I checked off both from my list!
After holidaying with the fam, I stayed back in Rome for a week of cooking classes with Italian Chef Federico Alessandri and learnt how to make pastas from scratch. The cooking classes were in a modern studio in the charming neighbourhood of Trastevere, where you can find some of the best local food in Rome. I learnt how to choose fresh produce from the farmer's market, cooked traditional recipes, picked up modern gastronomy tricks, and most importantly – ate so much great food (everything we prepared).
I felt like I was on Masterchef, making my own pasta!
Gnocchi are soft, fluffy, potato and flour dumplings covered in sauce that melt in your mouth when made well. This gnocchi recipe is fool-proof. I've divulged the little tricks I learnt in Rome that will really help you to get perfect pillowy pearls of gnocchi every single time.
The pros: this gnocchi is eggless, two ingredients only, requires no special equipment to make, and can be prepared in advance and frozen. The cons: none!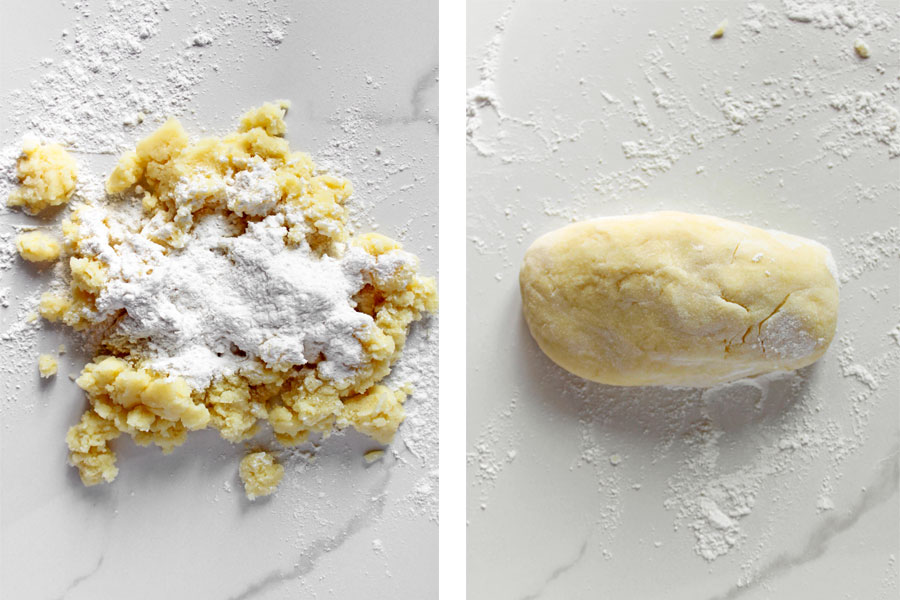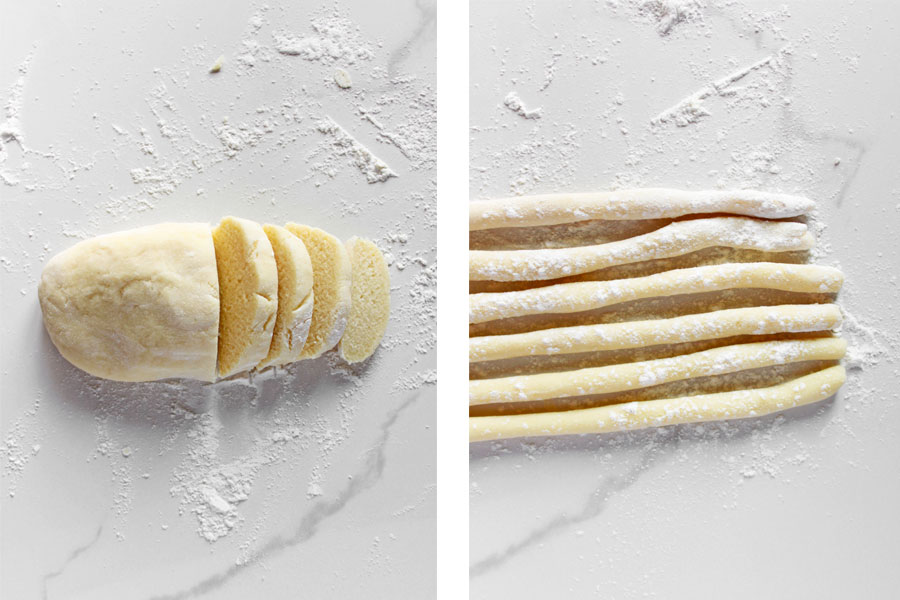 Though the process might seem a little lengthy at a glance, I've provided pictures of every step that will hopefully make it easier to understand.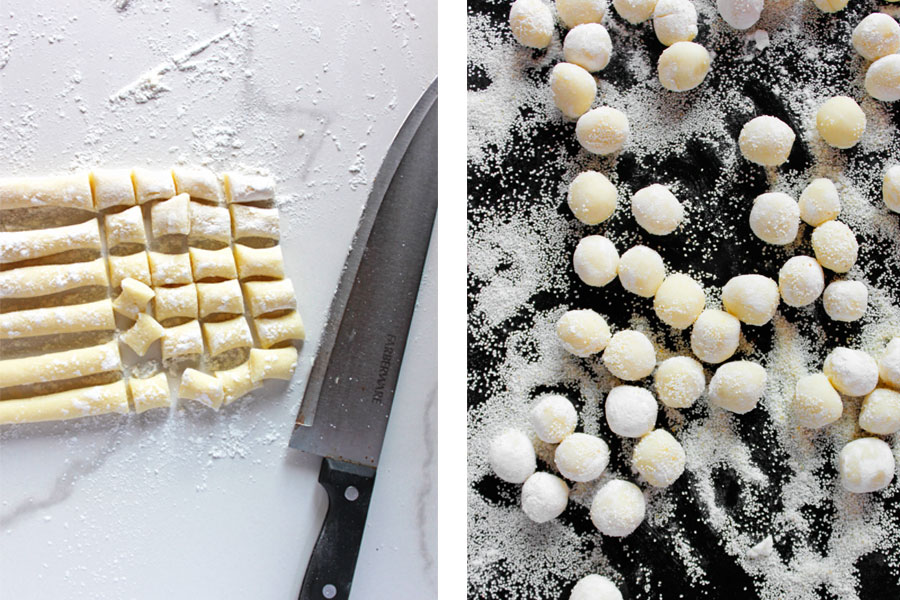 I love pesto, and once you try this quick homemade one, you will never use pesto from a jar again.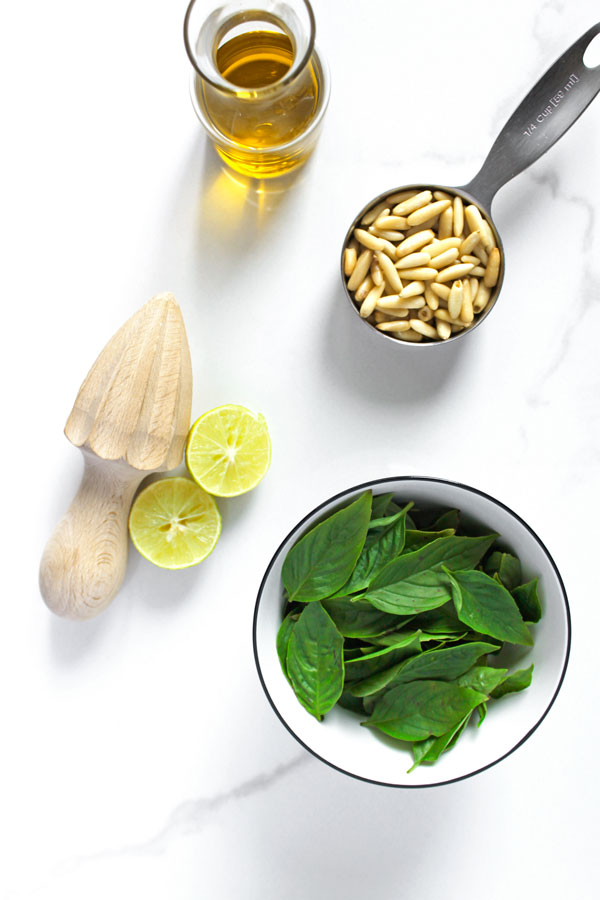 When you add the freshly boiled gnocchi to the pesto and toss with some pasta water, the starch helps the sauce emulsify… giving you a really creamy pesto sauce but without adding any cream, butter, or cheese! So it's also healthy, right?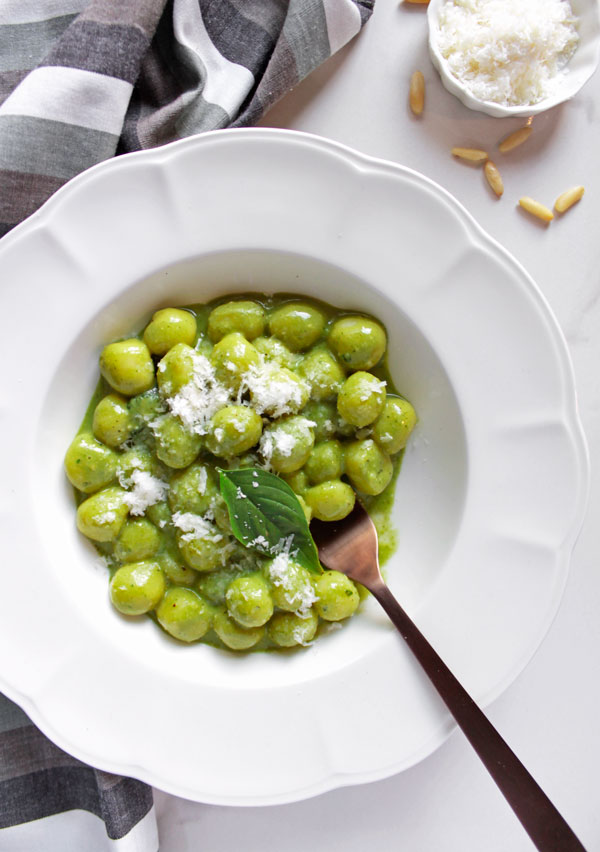 HOMEMADE GNOCCHI WITH QUICK BASIL PESTO
INGREDIENTS
For the gnocchi:
½ kg potatoes (with skin)
1 litre water
320g salt*
1 handful all-purpose flour, plus more for dusting
For the pesto:
1 tightly packed cup of basil leaves
¼ cup toasted pine nuts
2 cloves of garlic
⅓ cup parmesan cheese, plus for serving
½ cup extra virgin olive oil
1-2 tablespoons lemon juice
Salt & pepper
2-3 cubes of ice
INSTRUCTIONS
To make the gnocchi:
In a large pot of water, add the salt and the potatoes (with skin) and let it come to a boil.
Once the potatoes have boiled for about 20 minutes (until tender), drain away the salted water. Peel the potatoes when still hot and rice it using a potato ricer (this step is crucial to do when the potatoes are still hot). If you don't have a potato ricer, you can also grate the potatoes using a box grater.
Spread the riced potatoes on a flat surface and let them cool down a bit.
Once cool enough to handle, press the riced potatoes through a sieve. (Press it down on the sieve with a potato masher rather than stretching it across the sieve as the latter will activate the starch and make your gnocchi chewy).
Let the sieved potatoes cool down completely before you move on to the next step.
Use a wooden board or a clean, dry countertop as your working surface and lightly flour it. Take the mashed potatoes and form into a mound, and add the flour* and a pinch of salt on top.
Working quickly, use your hands to bring the mixture together into a ball. Lightly knead until it becomes a smooth dough, and shape into a log.
Section your dough into pieces (as shown) and taking one piece at a time, roll it out using just the palms of your hands, into a rope. The length of the rope doesn't matter, but the overall thickness should be the same.
Roll out all the sections into ropes of similar thickness.
Using a non-serrated knife or pastry cutter, cut the ropes into 1-inch pieces. Your gnocchi is ready at this step, but you can experiment with the shape. Gently roll each gnocchi in your palms to form "pearls" of gnocchi, or press down using a fork for ridges (optional).
To prevent the gnocchi from sticking to each other as they are waiting to be cooked, toss with extra flour or semolina. Spread on a sheet pan and keep in a cool area.
To make the pesto:
Add the basil leaves, pine nuts, garlic, parmesan, olive oil, lemon juice, salt, pepper, and ice cubes to a blender or food processor. Process on high until a paste is formed - stop when you are satisfied with the consistency. Ice helps to maintain the colour of the pesto.
Taste and adjust the seasoning.
To finish the pasta:
Bring a pot of lightly salted water to a boil. Dust off the excess flour from the gnocchi using a slotted spoon and dump them in the water. Boil for 2-3 minutes, or until the gnocchi floats to the top. Drain, saving a cup of the pasta water.
In a mixing bowl, take the pesto. Add the boiled gnocchi to it and quickly toss to combine. The starch from the hot gnocchi will emulsify with the pesto and coat the pasta in a creamy sauce. Add a ladle or two of the pasta water to loosen the sauce if required, tossing until the sauce is of desired consistency. Don't put the pesto on the heat as it will quickly loose colour and turn bitter.
Taste and adjust the seasoning if required.
Finish with some grated parmesan and serve!
*Note:
1. Did you read 320g salt and do a double-take? Thought I made a mistake? It sounds crazy, I know - but it's actually science. The ratio of salt in water creates a saturated salt solution, forcing the potatoes to release all their water through osmosis. The potatoes come out dry, resulting in pillowy soft gnocchi! (A trick I picked up in Rome)
2. The flour measurement is only an estimation - you might need a little less or more depending on how large or wet your potatoes are. Be careful not to add too much flour as it will make your gnocchi hard and chewy.
Recipe adapted from Chef Alessandri of Chef in a Day.
Did you make this recipe?
Leave a comment, or tag @sprigandvine.in on your photos on Instagram and Facebook, and hashtag it #goodfoodpractices
Did you miss the first part in our Italy series? Read it here.