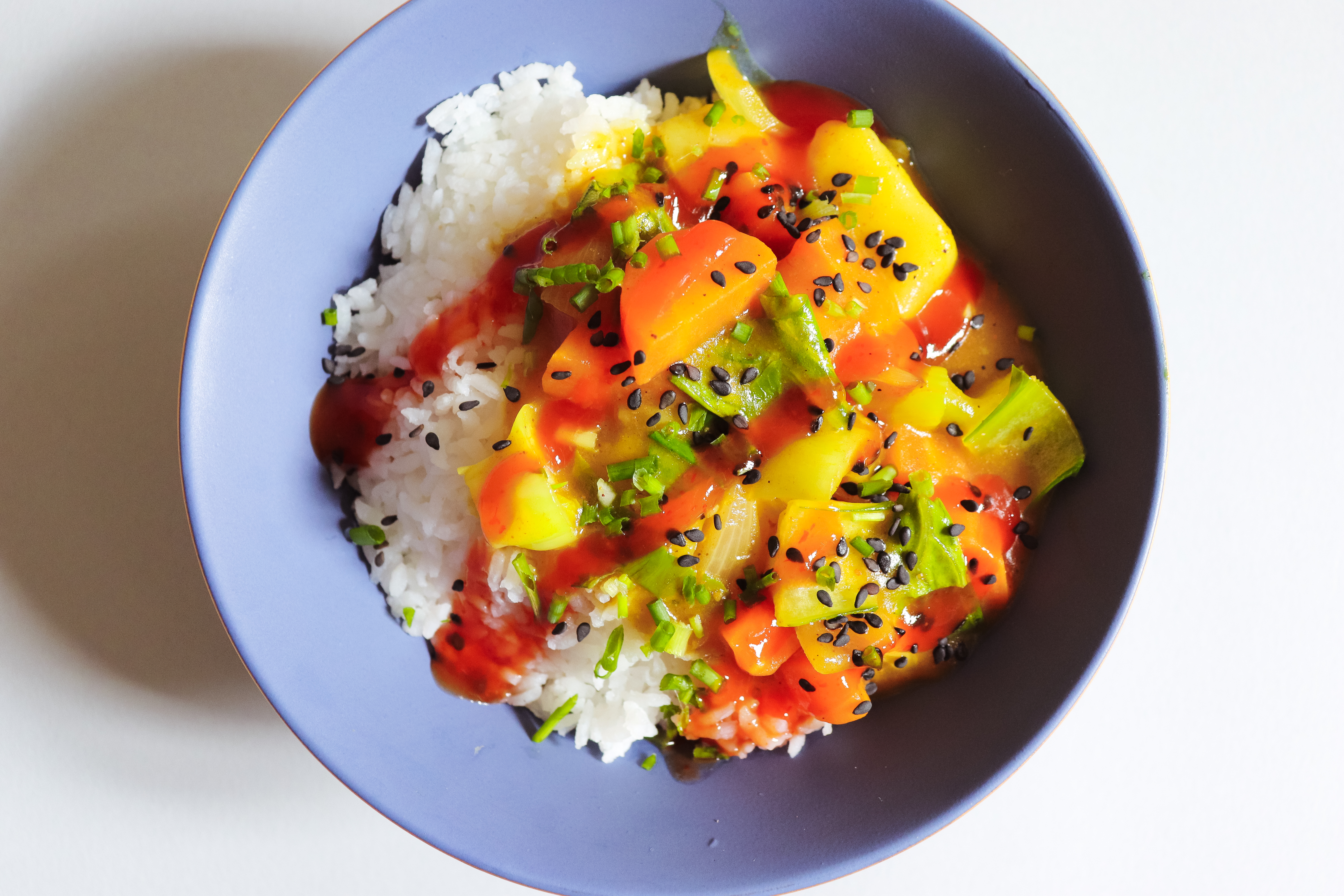 My obsession with this vegetarian Korean curry goes back a couple of years. During college days, there was a tiny hole-in-the-wall Korean restaurant that had a ton of vegetarian options, conveniently located between two class buildings (our's was a city campus right in the middle of NYC), and it served cheap, delicious, comfort food. Eating lunch there twice a week was a no brainer. If my friend and I had to pick a place to eat when our schedules coincided, this was it. It was a go-to meal for sick days, for cold days, for hungover days.
The place was called Wawa Canteen, and their vegetarian specialities were kimchi rice, and this Korean curry rice. But as is common with smaller places in NYC that find it hard to sustain with skyrocketing rents, and much to our dismay, it shut down. A different management, a few renovations, and a name change later (it was now Kuku Canteen), our favourite place was back the following year! Thankfully, the chefs and the menu remained the same, and we were back to ordering our favourites.
I've eaten at other Korean restaurants since, but never found this on the menu anywhere else. This is probably because it's not as popular or pretty or fancy like a bibimbap, or bulgogi. This yellow curry is a simple, no-fuss family meal cooked in Korean households. It's a quick one pot recipe you can make on a weeknight, nourishing and healthy for the entire family — similar to what the combination of dal + rice does for us Indians.
Usually Korean curry is made with some form of protein like pork, chicken, or beef, but one can easily omit the meat and make it vegetarian. The spice blend used is a prepackaged Korean yellow curry spice mix which is difficult to source, so I made my own. The spice mix I use can be customised, and I've included a few options in the recipe so you can try what works for you.The vegetables too are humble pantry staples — carrots, onions, and potatoes form the main bulk. You can choose to make it with broccoli, bok choy, and mushrooms if you like; add tofu for protein.
This whole dish takes only about 20 minutes to make, and it's a complete meal after which you'll leave the table feeling satisfied and full. Even though the curry might look and sound like an Indian curry, the flavours are different. It's milder, and the base of the curry starts out with a simple roux of butter and flour. Serve it over white rice or sticky rice, topped with a generous amount of Sriracha, and a scoop of spicy kimchi alongside. It's the perfectly warming and comforting one-pot dinner that will brighten up days like today with overcast skies and dull, gloomy weather.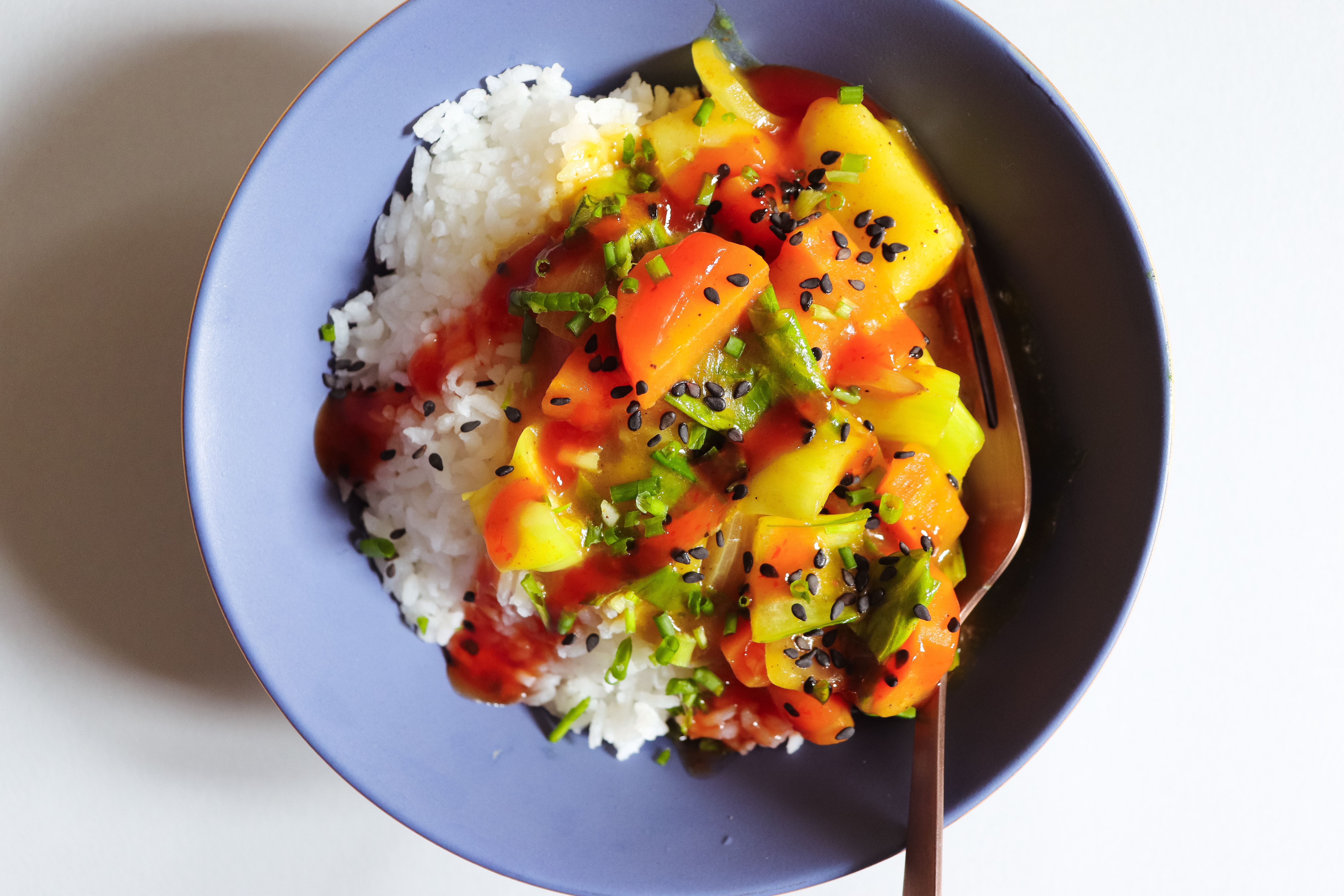 ---
Korean Curry Rice
INGREDIENTS
2 tablespoons butter
1 tablespoon flour
3 tablespoons spice mix*
1 large onion, chopped into chunks
2 medium potatoes, boiled, peeled, and chopped into chunks
1 carrot, sliced into half-circles
1 head of bok choy, roughly chopped
2 cups vegetable stock (can substitute hot water)
1 teaspoon cornflour
Salt, to taste
To serve: rice, finely chopped scallions, black sesame seeds, Sriracha
INSTRUCTIONS
Heat butter in a pan over medium heat until it melts. Add in flour and whisk rigorously to form a roux. Next, add the spice mix and cook until fragrant and the spice mix starts to darken.
Add in the chopped vegetables and continue cooking, about 5-8 minutes.
Meanwhile, mix the cornflour into the stock till dissolved, and add the resulting flurry to the pot. Bring to a simmer. The sauce should be thick and glossy, but not too tight. Add more stock or water to loosen if desired.
Season with salt and taste.
To serve, divide rice in bowls and spoon curry on top. Garnish with scallions, black sesame seeds, and Sriracha. Serve with kimchi and additional Sriracha if desired.
*Note:
You can buy Korean yellow curry spice mix at Asian speciality stores or online, but it can be difficult to source. Hence, I recommend making your own!

1. To make your own spice mix, mix together 2 tablespoons curry powder + 1 tablespoon Maggi tastemaker masala

2. If you're making your own curry powder: mix together 1 tablespoon ground turmeric, 2 tablespoons ground coriander, 1 tablespoon ground cumin, 1 teaspoon ground ginger, 1 teaspoon black pepper, 1 teaspoon red chilli powder, a large pinch of cinnamon, large pinch of ground cardamom.

3. If not using Maggi tastemaker masala, mix 1 teaspoon onion powder + 1 teaspoon garlic powder to your curry powder. At the time of cooking, season curry with 1 tablespoon of soy sauce to amplify the umami flavours.
---