Couscous is a staple in the Moroccan diet, usually accompanied with rich stews and meats that are prepared in a traditional tagine and served piping hot. A hearty meal for a blistery winter night, but probably not as appealing in the summer months, right? The best way to not miss out on the goodness of couscous during hot days is by using it in a salad!
This salad is the perfect starter or side to any meal, and just as good on its own for a light summer lunch.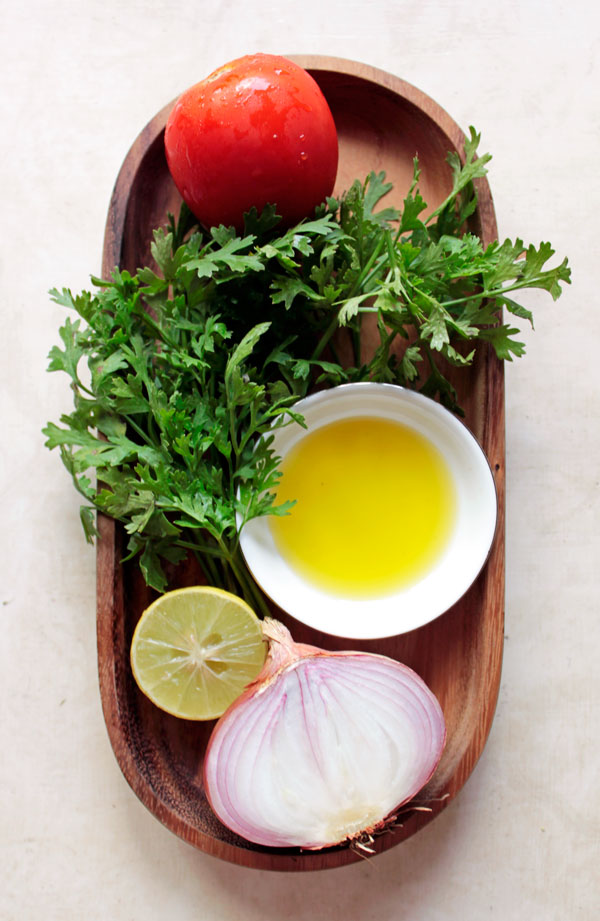 This one's a simple recipe, but has punchy flavours. Earthy parsley, fresh mint, and zesty lemon together are a match made in salad heaven. The jewel toned arils of pomegranate make this dish truly special while giving you a generous boost of antioxidants, vitamin C, and folic acid.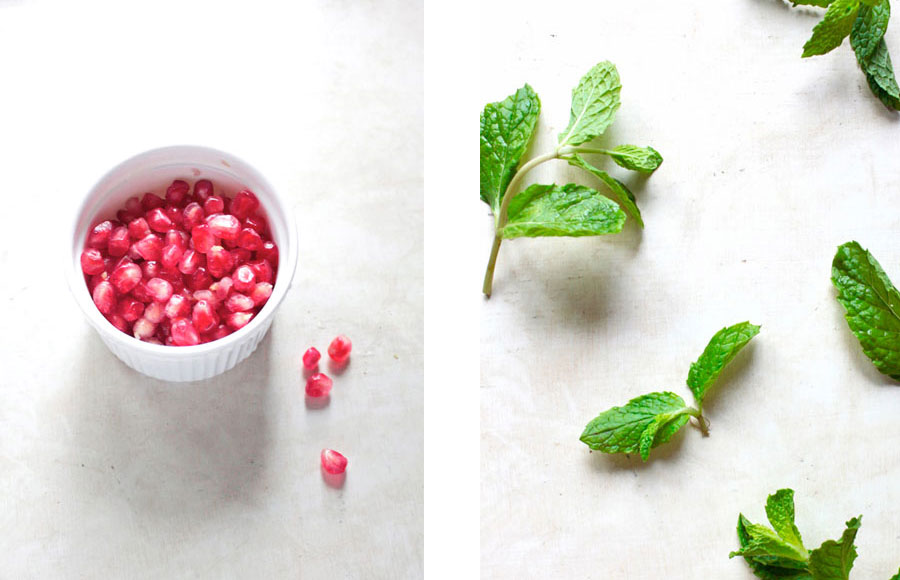 Customise the recipe according to your preference – substitute cranberries or dried apricots for the raisins, and use another nut instead of the pistachios if you please. The idea is to include something sweet and a little crunch.
Quick, healthy, and vibrant – this couscous salad is a one of my current favourites in our summer series of fresh recipes! (like this one and this one)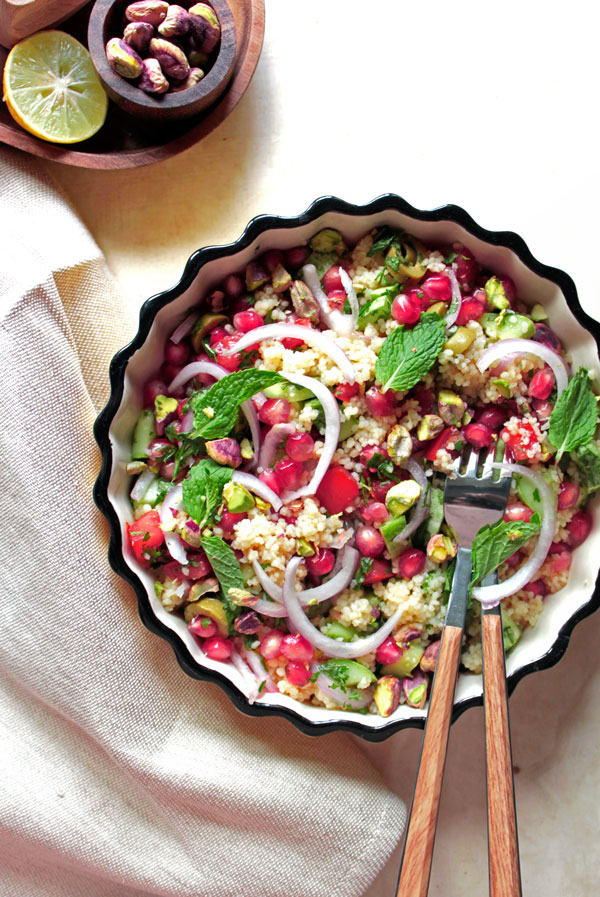 MOROCCAN COUSCOUS SALAD
INGREDIENTS
1 cup uncooked couscous
¼ cup raisins
1 tablespoon extra virgin olive oil
A pinch of salt and paprika, to taste
½ medium red onion, very thinly sliced
1 medium tomato, finely chopped
½ cucumber, finely chopped
2 tablespoons sliced or chopped olives
⅓ cup pomegranate arils
1 cup flat-leaf parsley, finely chopped
A few sprigs of fresh mint, chopped
Juice of a lemon (about 2 tablespoons)
A handful of toasted pistachios
Additional salt, paprika, lemon juice (to taste)
INSTRUCTIONS
Combine the couscous with the raisins, olive oil, salt, and paprika in a medium bowl. Add boiling water to it, about twice the volume of the couscous. Cover the bowl and leave to cook, around 5 minutes. When the couscous is cooked, it should have absorbed all the water. Fluff lightly with a fork to separate the grains.
In a separate salad bowl, combine the onion slices, chopped tomato, cucumber, olives, pomegranate, parsley, and mint with the juice of 1 lemon. Mix well.
Add the cooked couscous to the salad bowl and toss. Sprinkle the toasted pistachios, and adjust the seasoning according to preference. Serve at room temperature or slightly chilled!
Did you make this recipe?
Leave a comment, or tag @sprigandvine.in on your photos on Instagram and Facebook, and hashtag it #goodfoodpractices
Recipe originally published for ABURY on the One of A Mind blog.