I'm currently obsessing with all quick pickled vegetables. It's a great way to extend the life of any extra fresh produce you have on hand, and they bring vibrant pops of tangy, zingy freshness to any dish!
These refrigerator pickles aren't excessively vinegary, so they can be included on cheese boards, eaten as a side with a meal, or added to a number of dishes: think tacos, salads, sandwiches, sushi, grain bowls, summer rolls…
Veggies that work:
Red cabbage, radish, daikon, onions, beets, carrots, cucumbers, chilli, jalapeños, green beans, peppers, mushrooms, cauliflower, garlic, ginger, artichokes…
Want to take it a step further?
FLAVOUR it!
Try fresh herbs like dill, thyme, rosemary
Garlic cloves
Fresh ginger
Whole spices: red pepper flakes, black peppercorns, mustard seeds
Ground spices: smoked paprika, turmeric (adds colour)
Experiment with a mix of veggies and flavours – you can try apple cider vinegar or rice wine vinegar too.
It only requires about five minutes of prep, and then you pop everything in a jar, into the fridge. An hour later, you've got yourself pickled veggies! They taste even better when left overnight, and easily last upto two weeks or more.
Pro tip: Make sure the jar you're using is well sanitised before you pickle.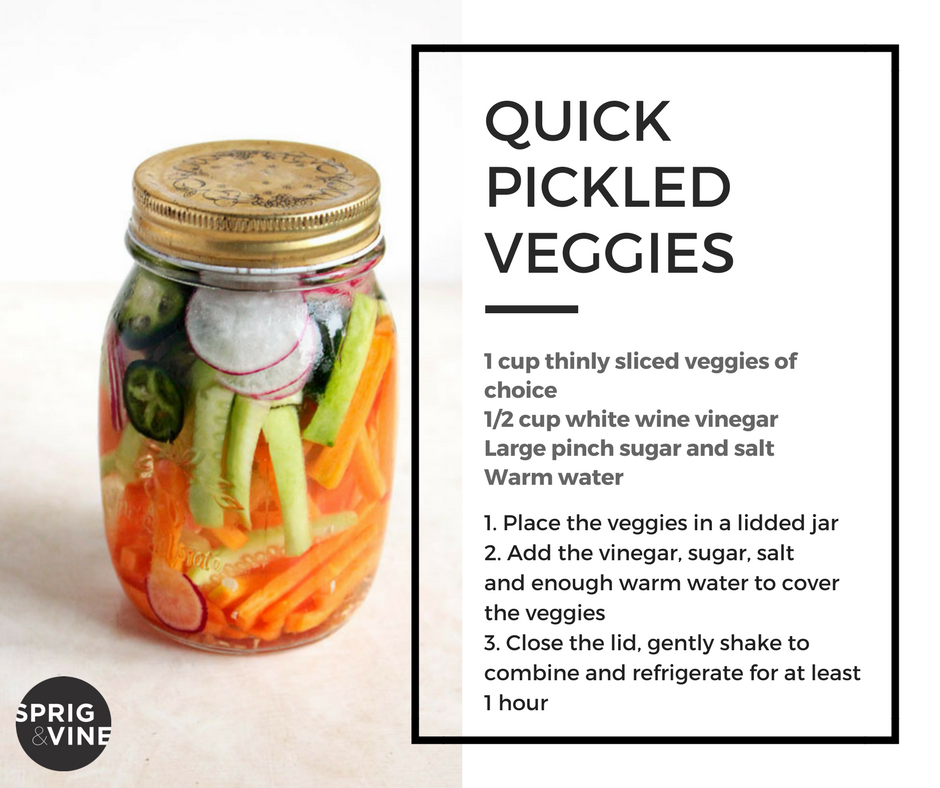 Have you tried pickling? What kind of veggies do you like to pickle? Let us know in the comments below.
If you try our method to quickly pickle your veggies, let us know:
Leave a comment, or tag @sprigandvine.in on your photos on Instagram and Facebook, and hashtag it #goodfoodpractices