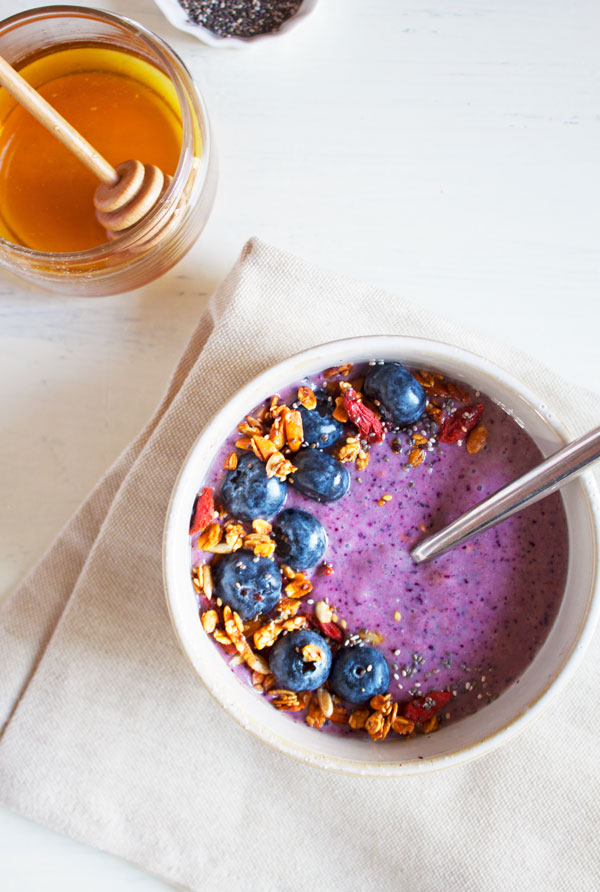 These days, judging by your Instagram feed, if you're drinking your smoothie out of a glass – you're doing it wrong. I was all about not messing with a classic – why mess with a perfectly good smoothie by serving it in a bowl? Until I realized that pouring the smoothie into a bowl gives you a perfectly good reason to load up on toppings!
I've been experimenting with smoothie bowls on my own, particularly on nights when I can't get any sleep. There's something special about pottering about in the kitchen while everyone's asleep to whip up something delicious for breakfast before the family wakes up.
I love meals in bowls, and a power-packed smoothie bowl is no exception. These bowls are so customizable that you can make a different one every day of the week. Say goodbye to the breakfast rut where you rotate the same eggs or toast every day of the week.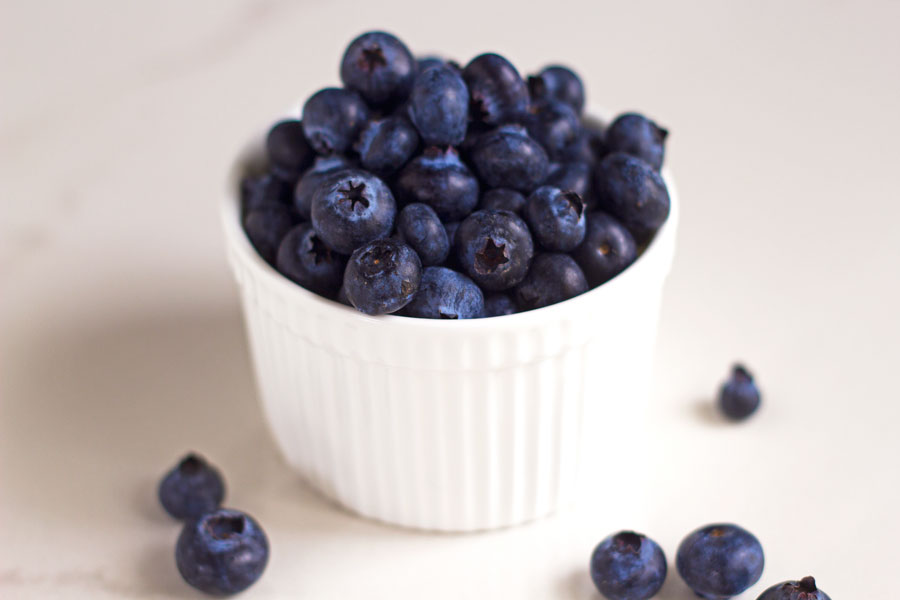 I always start with a frozen banana and some Greek yogurt to form the creamy base of my smoothie bowl, and add fruits based on what I have on hand – blueberries in this case. I also add chia seeds for additional nutrients, fiber, and protein. The smoothie is naturally sweet from the banana, but you can add a dab of honey or agave in the end to sweeten the deal.
It's really so simple to make with only five ingredients, and can be prepped in advance so you can ace your meal prep over the weekend. Make this bowl and load it up with the toppings of your choice for a quick breakfast, or a snack to refuel after yoga.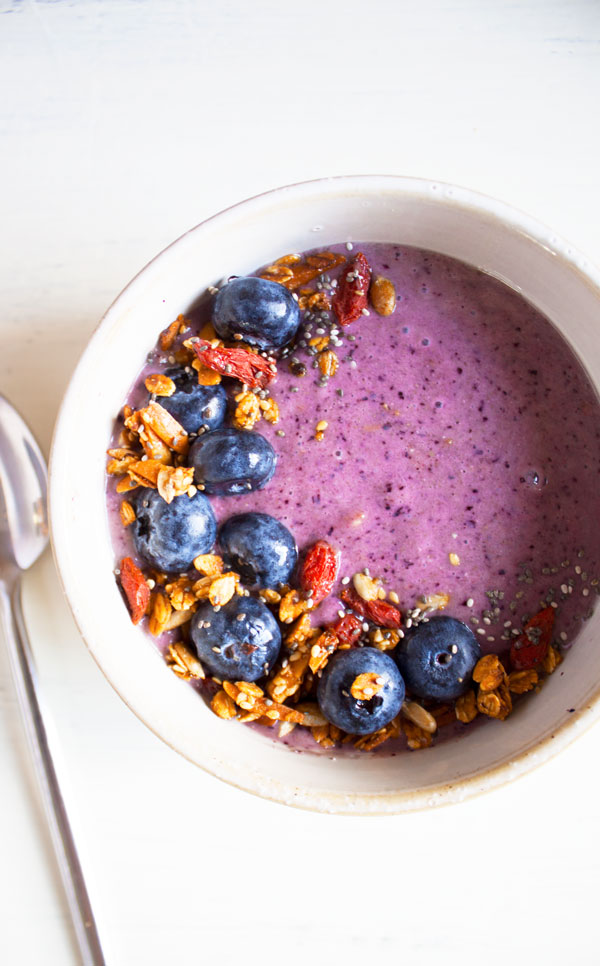 BLUEBERRY SMOOTHIE BOWL
Serves:
1 large or 2 small bowls
INGREDIENTS
1 frozen banana
¼ cup plain Greek yogurt
¾ cup blueberries (plus more for topping)
1 tablespoon chia seeds
Honey, to taste
Optional toppings: granola, goji berries, chia seeds, coconut flakes, cacao nibs
INSTRUCTIONS
In a high-speed blender, add the frozen banana, Greek yogurt, blueberries, chia seeds and honey. Blend until smooth. This is meant to be thick as it's eaten from a bowl, but you can always add a dash of almond milk to make it a drinkable smoothie.
Taste and add a dab of honey to sweeten if required.
Pour into one large bowl or divide equally between two smaller bowls. Top with the additional blueberries and whatever other toppings you like! I used granola, goji berries, and a sprinkle of chia seeds.
Share it with a family member or sit out on the balcony and savour each spoonful!
---
This recipe first appeared on the blog Wandering for Wellness; a lovely travel + wellness blog by Jia Singh. Read the original post here.
Did you make this recipe?
Let us know: leave a comment, or tag @sprigandvine.in on your photos on Facebook and Instagram with the hashtag #goodfoodpractices 
If you liked this smoothie recipe, you might also like this Green Detox Smoothie.