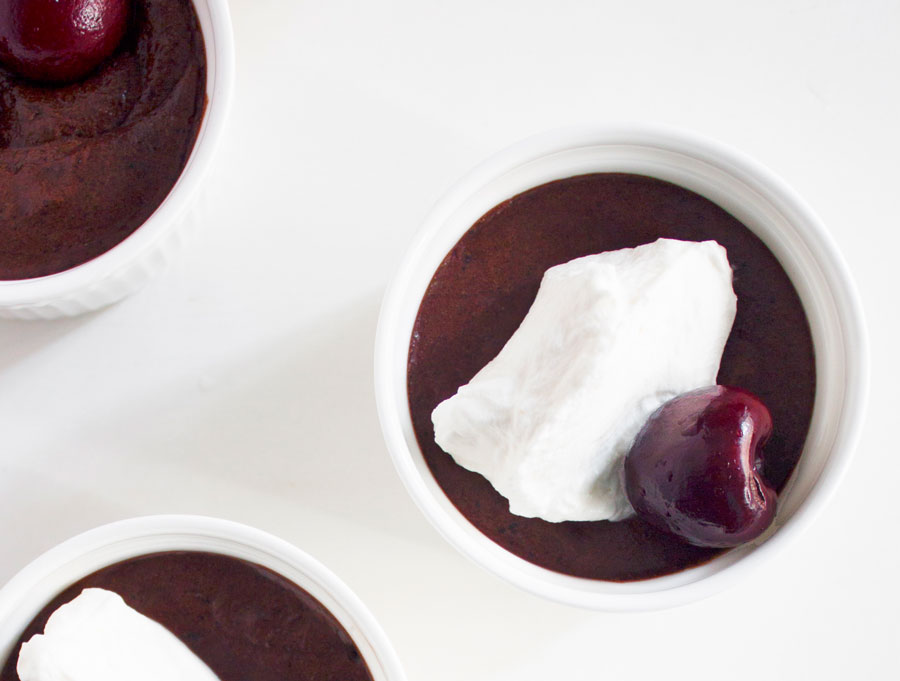 This post is a part of Sprig & Vine's month of wellness: expect Good Food Good Vibes all January long! We will be posting content throughout January that will help you kickstart the year feeling well and good, with healthy eating hacks, feel-good recipes, and tons of wellness inspiration. 
---
We started January with a promise to eat wholesome meals; and resolved that this is the year we're going to cut back on sugar. Obviously, abstaining from all desserts in the long run isn't really an achievable goal, but the idea is to find ways to enjoy healthier treats and sugar in small doses that won't spike up our blood sugar and do a whole lot of other bad stuff to our bodies.
I was determined to include a dessert recipe in the Good Food Good Vibes plan for January, and this seemed like the perfect opportunity to experiment with a healthier dessert. This chocolate mousse looks and tastes like any other mousse, but with a few exceptions. It's got a super short ingredient list, and is made without dairy or processed sugar. How, you ask?
Enter aquafaba. This is the wonder ingredient that vegans have been raving about, and has been hiding in your pantry for years. It's the viscous liquid you drain out of a can of chickpeas when you're making hummus; the leftover water you think has no use in your kitchen. Aquafaba or "bean water" as it literally translates to, is the thick liquid that legumes are cooked in, and is the unicorn ingredient in vegan meringues and baking recipes, when subbed in for egg whites. More pros? It doesn't have the eggy smell either!
In this recipe, the aquafaba is beaten until it's voluminous, stiff-peaked, and glossy white; and then folded with melted dark chocolate, and left to set in the refrigerator. You can use vegan chocolate if you want to make it entirely dairy-free too. And it's as simple as that!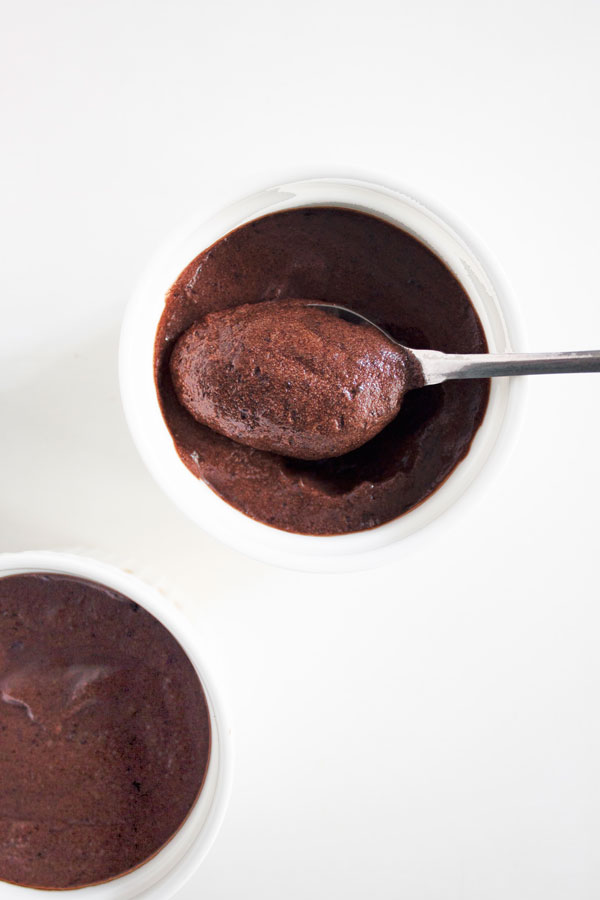 Though it's quickest to use aquafaba from a can of chickpeas (with the liquid reduced down on the stove to make it more viscous), you can easily make your own aquafaba from scratch, which is the method I prefer.
HOW TO MAKE AQUAFABA AT HOME
Soak dry chickpeas in a large bowl with filtered water, for at least 8 hours or overnight. Drain.
Bring the soaked chickpeas to a boil, cooking until tender. Drain, reserving the cooking liquid. Keep the boiled chickpeas aside to use for other recipes.
Return the cooking liquid back on the stove over medium heat, until reduced to about half the volume and slightly thicker (around 15 minutes).
Remove the reduced liquid in a bowl and refrigerate for 4-6 hours until completely chilled. What you should get is a viscous, gelatinous liquid that is the aquafaba, and can be used as an egg-white replacement.
This chocolate mousse is really 2-ingredients only (give or take a few), and has the perfect airiness and texture. I like to top mine with some whipped dairy cream, which you can sub with coconut cream or cashew cream, or leave out all together too.
It's perfect to curb that after-dinner chocolate craving, while not feeling too guilty about it! This stays great in the refrigerator for a couple of days (don't top with the cream until it's time to serve), so you can even make this in advance for your dinner parties. The sweetest note to end January with.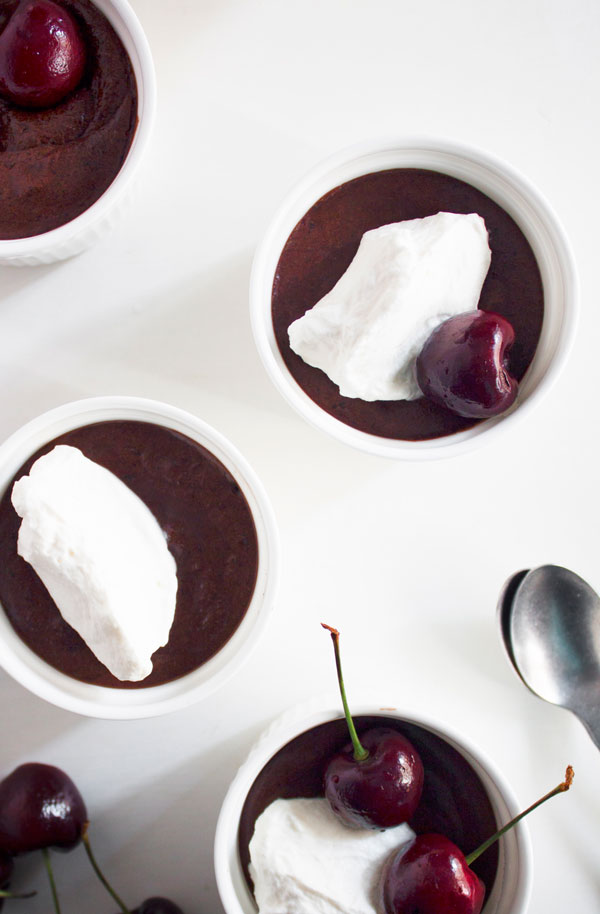 CHOCOLATE MOUSSE
INGREDIENTS
1 cup chilled aquafaba (drained + reduced from a can, or made from scratch)
1 tablespoon coconut sugar or brown sugar (if desired)
200 g dark chocolate
1 teaspoon vanilla extract
To serve: whipped cream or cashew cream, fruit
INSTRUCTIONS
In a medium bowl, whip the chilled aquafaba using an electric whisk until stiff-peaks form, about 15 minutes. You can add a tablespoon of coconut sugar or brown sugar while whisking if you want the mousse more sweetened, but it's not really required. Note: It might take a while for the stiff peaks to come together, be patient! You can also use a stand mixer, which will be faster. I would not recommend doing this using a hand whisk - it will take forever, and be a massive workout.
Meanwhile, melt down the chocolate in a double boiler. Let it cool down a little after it's fully melted.
Pour the chocolate and the vanilla extract into the aquafaba and mix well until combined. The mixture will deflate a little bit, but that's fine!
Divide the mixture into 4 ramekins or dessert cups and refrigerate for at least 4-6 hours, preferably overnight.
When ready to serve, top with whipped cream and fruit, if using.
*Note:
Make sure your aquafaba is really well chilled, this helps the whipping process. If you feel it's gotten too warm, chill it in the refrigerator for 10 minutes before continuing to whisk.
---
Did you make this recipe?
Let us know: leave a comment, or tag @sprigandvine.in on your photos on Facebook and Instagram with the hashtag #goodfoodpractices