Hummus, houmous, humus, or hommos… however you spell it, you certainly can't deny how amazing it is. This creamy Middle Eastern dip used to be one of my staple foods back in New York. Whether I was picking up a tub of hummus at the local bodega, or stopping at the famous Mamouns for hummus and hot sauce on my way back from class: I couldn't have enough of it! Back then, I relied heavily on store-bought hummus for my snacking needs, not knowing how easy it is to make it at home.
Though the origin of this versatile dip is much debated (both Arabs and Greeks claim it as their own), it is central to Arabic, Turkish, Greek, Israeli, and Egyptian cuisines to name a few. Each variation might be slightly different than the other, but a classic hummus requires really only five ingredients to make.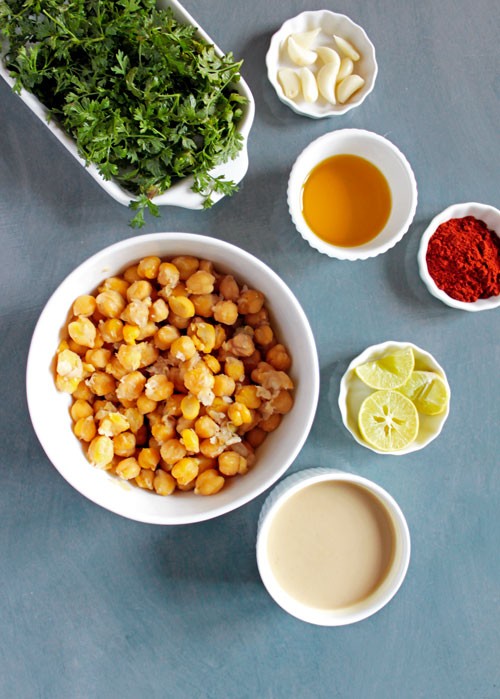 The primary ingredient in hummus is chickpeas, which are an excellent source of protein and fiber, especially for those on a vegan and vegetarian diet. Add to it some good quality tahini, garlic, lemon juice, and salt, and you have this creamy, yummy, dip that goes with pretty much anything. Scoop it up with warm pita or serve it like a dip with crunchy crudités. Spread it on toast with sliced tomatoes, or use it in your wraps and sandwiches.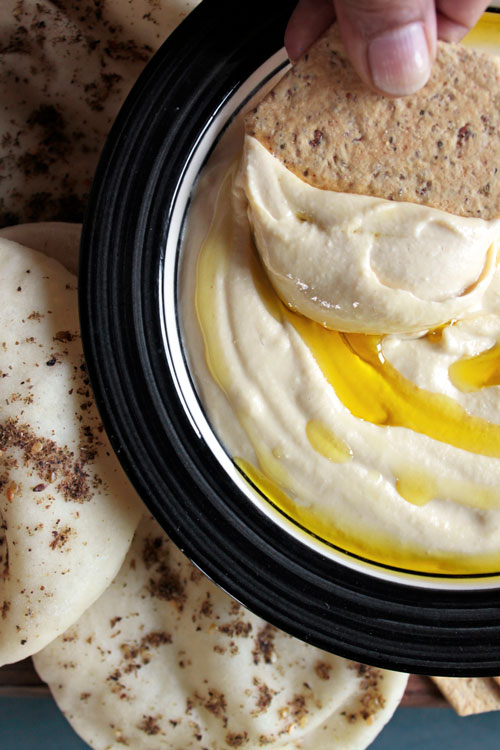 It also lasts in the fridge for around a week if you keep it covered with plastic wrap. So tonight's hummus mezze turns into tomorrow's lunch as a hummus wrap, and day after's snack of hummus and crackers. (You get the picture…)
Though I have made hummus a few times before, I was never quite happy with the consistency and creaminess. I have to credit Ottolenghi for the trick that solved all my hummus woes! I always used olive oil to blend the chickpeas, but learnt that ice cold water does the job too. This way not only has my hummus become much smoother than ever before, but it's also far healthier with zero oil.
Think of this hummus as a base, and adjust it according to taste. Blend it with boiled beets or roasted garlic for a different spin. Dress it up with toppings, or eat it as is. I like mine with a drizzle of olive oil, some paprika, and chopped parsley. Other topping suggestions you can try out are toasted pinenuts, kalamata olives, and pomegranate seeds. Spice it up with a pinch of cumin or za'atar. The options are limitless!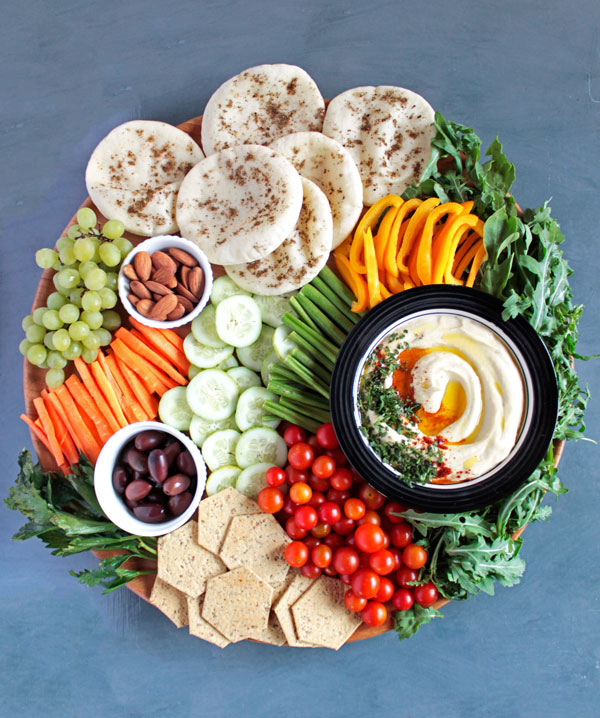 CLASSIC HUMMUS
INGREDIENTS
For the hummus:
125g dry chickpeas (or 300g boiled chickpeas)
½ teaspoon bicarbonate of soda
⅔ cup tahini
2-3 cloves of garlic, minced
2 tablespoons lemon juice
Salt, to taste
For serving:
1-2 tablespoons extra virgin olive oil
¼ cup chopped parsley
A sprinkle of paprika
INSTRUCTIONS
If using dry chickpeas:
Thoroughly rinse the chickpeas and cover them in cool water at least twice their volume. Leave to soak overnight. Drain the chickpeas the next day.
Place the drained chickpeas in a medium saucepan with half a teaspoon of bicarbonate of soda and cook, stirring constantly for about 2-3 minutes.
Add around 1 litre of water to the pan and bring to a boil. Cook for around 25 minutes, skimming the skins and foam that float up to the top. When cooked, the chickpeas should be soft and will break apart easily with your fingers. Drain.
To prepare hummus:
Transfer the boiled chickpeas to a blender or food processor and blend until it forms a thick paste, about 2 minutes.
Add the tahini, garlic, lemon juice, and salt and blend again for 2-3 minutes.
Add around ¼ cup of ice cold water to the blender and blend for another minute or so, until the hummus is creamy (you might need a bit more depending on the consistency you desire).
Taste and adjust the seasoning as required. Let the hummus sit for about 30 minutes before serving.
Serve with a drizzle of olive oil, some paprika, and chopped parsley.
*Note:
Good quality tahini is available quite easily at most world food stores in India and online. If you can't get your hands on store-bought tahini, blend toasted white sesame seeds with olive oil to make your own.
Did you make this recipe?
Leave a comment, or tag @sprigandvine.in on your photos on Instagram and Facebook, and hashtag it #goodfoodpractices