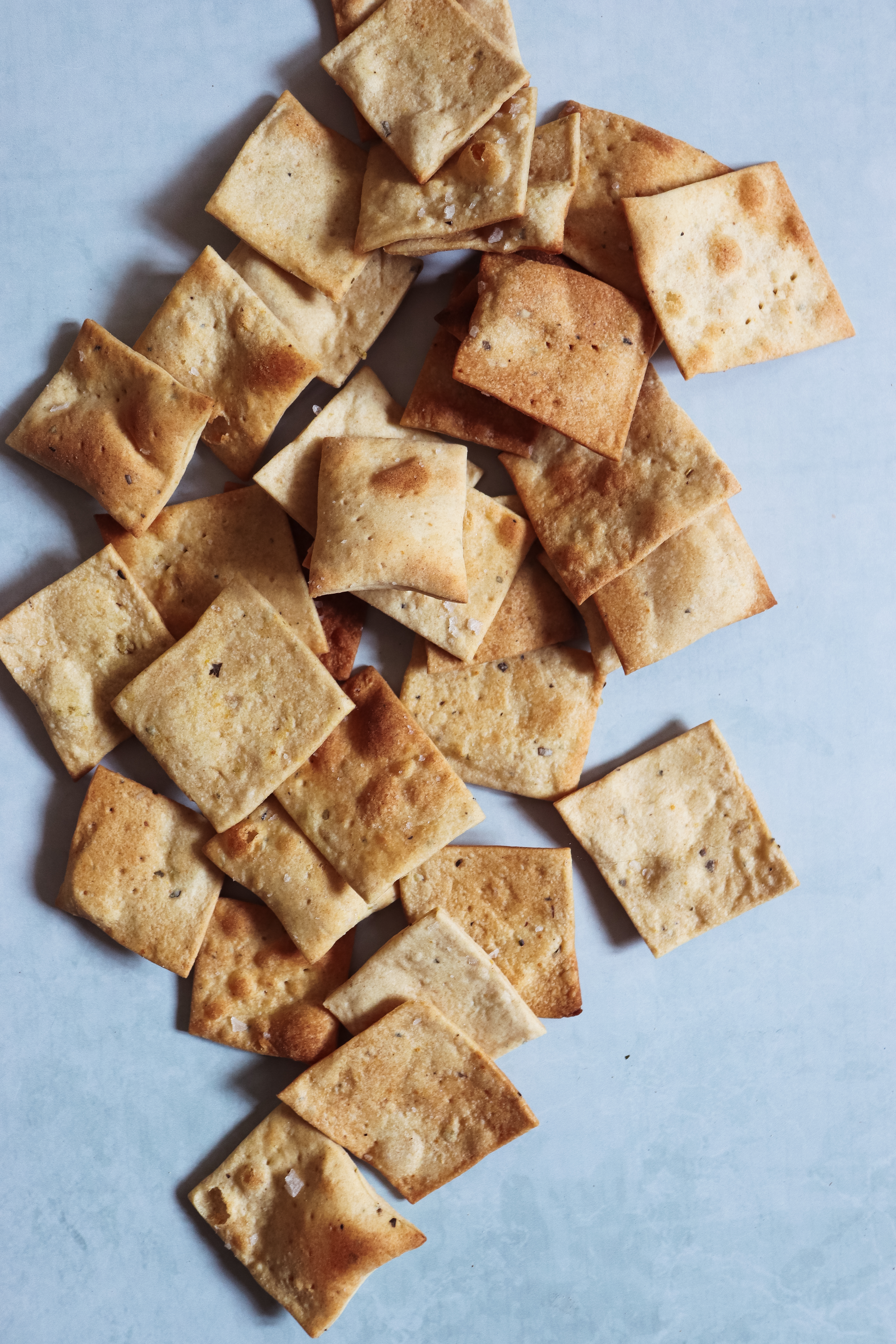 Whether you're hosting happy hour, a lazy dinner, or just want to relax with a few close friends with bottles of wine, there's no denying that snack boards are the ultimate party hack. Put together a few cheeses, throw in some dips and condiments, finish up with accompaniments and crackers. All it takes is some thoughtful curation and shopping, and a few minutes to make it look pretty. It's so simple, it's genius.
When we assemble cheeseboards often all the attention is on, you guessed it, — the cheese. But what about the vehicle that carries the cheese?
The perfect cracker should have the right amount of crunch; be sturdy enough to hold the weight of all the cheese you want on top; be savoury but not too salty; and versatile to go with a variety of toppings. I always purchased my crackers until recently because I didn't think it was possible to make them so good at home. Don't get me wrong — I still think boxed crackers are delicious, and perfect for when you want something quick and easy. But, these homemade crackers will level up your snack game.
These homemade crackers are crispy, crunchy, savoury, and so delicious. They are amazingly easy to make and turn out so good every time. The dough is super simple — quick kneading! no yeast! And they're basically made with all pantry staples. The baking time is quick — so really, these can be whipped up last minute before your friends come over.
Top tips for getting really crispy crackers every time: 
Make sure your dough is not too wet or dry. Start with a small amount of water when kneading, and slowly add more. If it feels too wet, add more flour!
Brush each cracker with olive oil after you place them on the baking sheet and before baking. This will give the cracker beautiful golden edges and crunch.
Rotate the tray once halfway through baking. Different parts of the oven heat unevenly, and rotating the tray allows all the crackers to brown and crisp up uniformly.
Let them cool down completely in the baking tray, as the crackers will crisp up further as they cool down.
Once you have the recipe for these basic homemade crackers in your back pocket, you can crank it out literally any time. You can make also many variations with just a few herbs or spices.
Herbs — I used dried oregano for a simple cracker that goes with just about anything, but they'd be just as good with thyme or rosemary too. You can also try cumin (it'll give you a gorgeous nutty taste and go perfectly with hummus).
Seeds — To make a seeded version of this cracker, simply top with seeds of your choice after brushing with olive oil. Sesame seeds go best, and poppy seeds are another option. (Pumpkin or sunflower seeds would be too heavy for small crackers, so only use them if you're cutting them out large).
Chilli — Spice it up! Sprinkle with chilli flakes or add a tiny pinch of cayenne to the dough for spicy, grown-up homemade crackers.
Seasonings — Keep it elegant with flaky sea salt. Dial up the flavour with everything bagel seasoning, use garlic powder for garlicky crackers, za'atar or sumac for Middle Eastern inspired flavours.
Cheese — Sprinkle grated Parmesan or some nutritional yeast on top for cheesy crackers.
And these homemade crackers aren't just for cheese (though they make an ideal pair)! Serve them with
guacamole
a cheesy dip like queso or fondue
a creamy spinach and artichoke dip
… the options are endless! Try the recipe below.
---
Homemade Crackers
INGREDIENTS
200g whole wheat flour
60g all purpose flour
1 teaspoon dried oregano (or thyme/rosemary)
½ teaspoon baking soda
1 teaspoon salt
⅓ cup extra virgin olive oil (plus more for brushing)
Optional toppings: flaky sea salt, chilli flakes, dried herbs, sesame seeds etc
INSTRUCTIONS
In a large bowl, combine both the flours, oregano, baking soda and salt. Make a well in the centre and add the olive oil. Stir to mix.
Gradually add the water and continue mixing until it starts coming together. Knead the dough for a couple of minutes until it forms a smooth dough. Cover and let it rest for 20 minutes.
Meanwhile, preheat the oven to 180°C. Once the dough has rested, flour your work bench. Divide the dough into sections, rolling out a section at a time. It should be quite thin, as that will give you crunchier crackers.
Use a pizza cutter to cut out squares or rectangles. Alternatively, you can also use a cookie cutter to cut out shapes of your choice. Prick the crackers with a fork.
Line a baking sheet with parchment paper and transfer the crackers to it, making sure not to overlap.
Lightly brush each cracker with olive oil using a pastry brush, and sprinkle any toppings if desired. I prefer flaky sea salt; you can also try dried herbs, chilli flakes, or sesame seeds. Sprinkle grated Parmesan for cheesy crackers.
Bake for 8-10 minutes, or until lightly browned, rotating the tray halfway through. Note: since oven temperatures vary and baking times also depend on the thickness of your crackers, keep a close watch. Thicker crackers may take longer to bake through.
Let your crackers cool down completely before storing them in an airtight container.
---