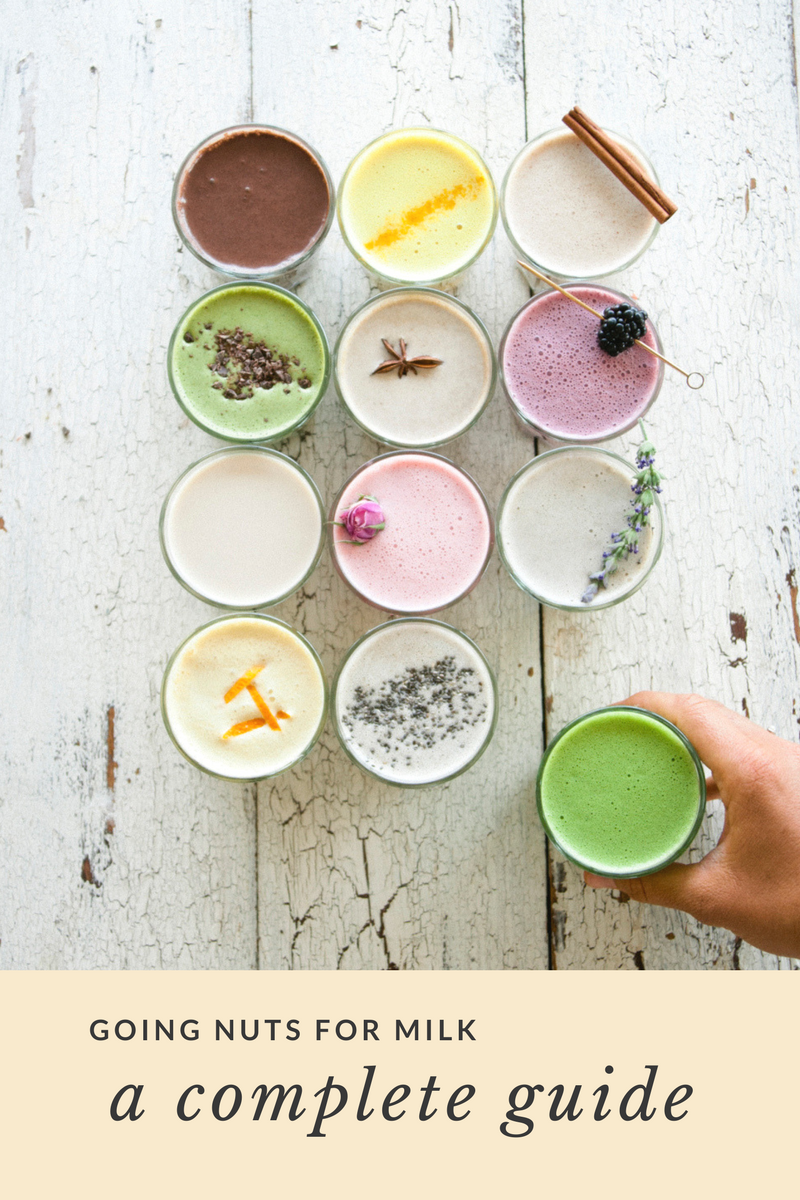 Milk is no longer simple, or just 'milk.' Gone are the childhood days where two cups of milk was a staple, usually flavoured with chocolate or malt powders. 'Do you drink cow's milk?' was not a question that needed to be asked! Now there are any number of dairy-free, plant-based milks out there to choose from — a selection overwhelming enough to confuse anyone.
From your favourite coffeeshop, to the plant-based eating advocates who write article after article in praise of it, to the healthy-ish recipe videos making vegan and dairy-free treats — nut, seed, and grain milks are all the rage these days. Nut 'milk' or "mylk" as the plant-based alternative of milk is often stylised as, is made from almonds, cashews, coconuts, hazelnuts or even macadamia nuts. Other alternatives are made from seeds or grains like hemp, quinoa, soy, rice, oats… the list could go on!
For those of you who keep hearing about these "mylks" but have no idea what the fuss is all about, read on.
THE GOOD
Plant-based milk a great alternative to those who have difficulty digesting lactose (which is a surprisingly larger percentage of people than you would think). Their production requires fewer natural resources than maintaining livestock does. Nut milks also have lower cholesterol and fewer saturated fats than cow's milk. Soy milk is high protein, almond milk is low calorie. Cashew, hemp, and oat milks are richer, creamier, and contain more fibre. Each of these alternatives have a host of properties that are good for you. If you're looking to make a switch, make sure you explore beyond the common almond milk.
THE BAD
Cow's milk is cheap and easily available, as opposed to nut or seed milks which are very expensive here in India and will quickly rake up the bills. As most of the alternatives have very low amounts of protein, vegetarians will miss out on the protein intake of regular milk. Due to a lack of awareness about these alternatives, eating out is definitely a concern if you're avoiding dairy. Your meals will require more planning than usual, and you might have to enquire in advance at restaurants.
THE VERDICT
Indians consume a ton of dairy: as milk or cheese and curds. Switching to a mylk is therefore a big commitment, and probably not very sustainable long term — unless you can't consume dairy for medical reasons. Also, the large ecological footprint of plant-based milks is worth considering. The recent surge in the demand for almond milk has put a lot of pressure on almond farms that are draining underground reservoirs to meet their water needs. My verdict? Plant-based milks are great for an occasional indulgence when you want something sweeter or creamier than regular milk. Add a splash to your morning coffee, smoothie, turmeric latte, or oatmeal once in a while; avoid it for daily consumption.
BONUS: How to make plant-based milks at home
A major cause for concern in buying packaged 'mylks' is that they are full of additives, artificial sweeteners, and contain less than 2% nuts! If you do want to indulge in nut milk once in a while, make it at home. It's easy! Here are a few tips:
Use raw, unseasoned nuts
Soak for 8-12 hours, drain and rinse
A good blender is a must. Blend the soaked nuts with cool filtered water until smooth and creamy. The ratio to remember is 1 cup nuts to 4 cups water
Strain using a fine cheesecloth, muslin cloth, or nut bag
Tip: don't discard the pulp – use it to add fibre to smoothies or in oatmeal
Flavour
There are so many ways to add flavour to your homemade milk. Transfer your strained milk back to the blender, add flavourings and blend again. Here are some of my favourite ideas for flavourings: vanilla, dates, cinnamon, turmeric, matcha, nutmeg, coconut oil, cacao powder, or rosewater. A little bit goes a long way!
So there you have it. A comprehensive guide to mylks and how to make them at home. What is your favourite type? Let us know in the comments below.
Cover image courtesy of Sweet Laurel.