Ice-cream is my all time favourite dessert, and biggest weakness when it comes to cutting back on sugar. You'll no doubt understand why I'm so excited that Samyukta is sharing this nice cream recipe with us. Samyukta follows a plant-based lifestyle, sharing her creations via Instagram. In her post for us, she makes ice-cream healthy enough to eat for breakfast; armed with some of my favourite ingredients – bananas, strawberries, and tons of toppings.
---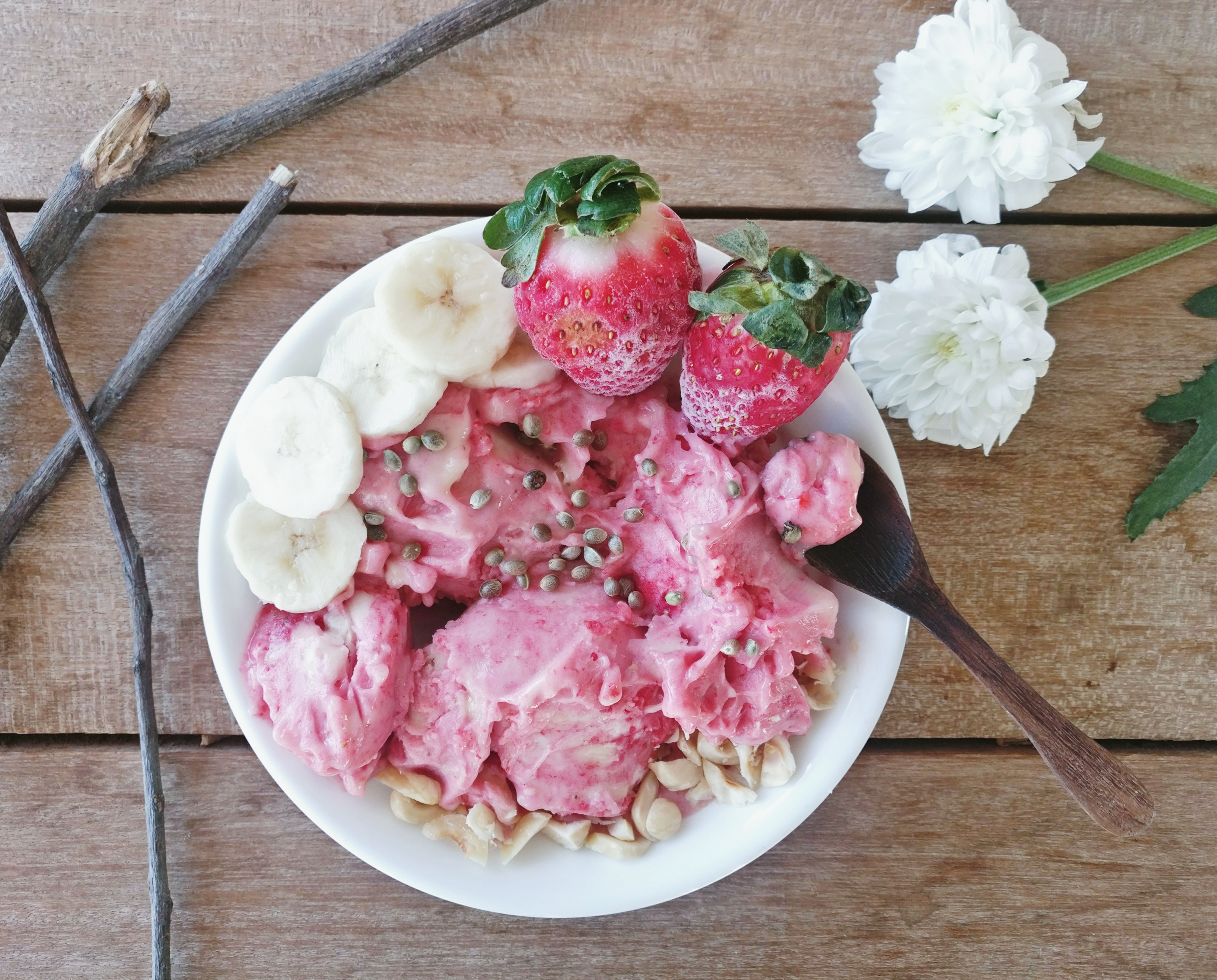 Ice cream – an all time classic, innocent sweet treat, and pretty much everybody's weakness. Who doesn't love a cold melt-in-your-mouth, colourful bowl of exciting flavours on a sunny day? It takes us back to our childhood in many ways, and that's probably why it comes under the bracket of "comfort foods." But truth be told, ice cream as we know it isn't much more than just a sugar-loaded concoction of heavy cream, hydrogenated oils, chemicals, artificial colours, additives, and ingredients that are so hard even to pronounce that, more often than not, we are left clueless about what's really gone in. When was the last time you read that ingredient label?
Personally, when I chose to turn things around and live a life free of animal-derived ingredients and overly processed foods, I realized just how creative one could get in the kitchen! My culinary world became filled with the niftiest hacks. Who would've ever imagined that all it takes is two fresh ingredients to produce one of nature's finest desserts? If you're looking to adopt healthier food habits without missing out on indulgent treats, this one's for you.
Nice cream is nothing but frozen fruit that is churned up to create a naturally sweetened soft-serve ice cream. It's got none of that processed stuff, or any added sugars, and all you really need is a handy blender. Banana is almost always the standard base because of its creamy, decadent nature and naturally occurring sweetness. While banana nice cream tastes great in itself, one of its greatest assets is its flexibity. Other fruits are typically added to it to create bolder flavours that, for once, are not tampered with artificially.
Feel free to throw in other fruits or nut butters too while blending — berries, avocado, almond butter, tahini, matcha, raw cacao, and so on. It is so versatile that it gives you lot of room to experiment! Top with more fruit, sprinkle with nuts, seeds, coconut flakes, and whatever you might like. I've used fresh banana, strawberry, hemp seeds, and chopped hazelnuts. Hemp seeds are loaded not just with protein, but also with essential fatty acids, amino acids, and fiber. Hazelnuts, when enjoyed in a moderate quantity, provide protein, fiber, healthy fats, calcium, and essential vitamins.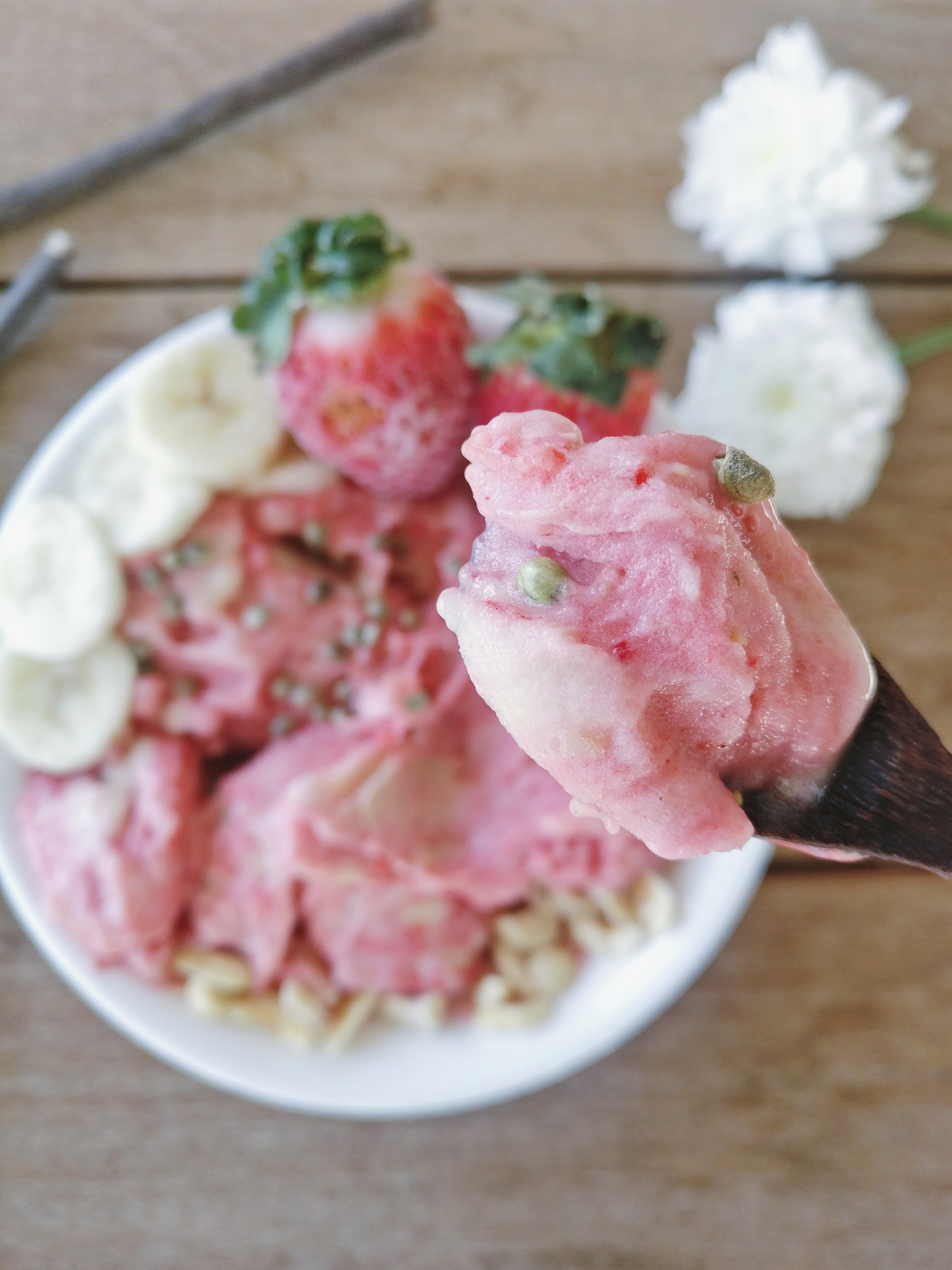 STRAWBERRY BANANA NICE CREAM
Serves:
1 large or 2 small
INGREDIENTS
2 ripe bananas (frozen overnight)
4 fresh strawberries (frozen overnight)
To serve: more fruit, seeds, nuts!
INSTRUCTIONS
Blend the frozen fruits in a high speed food processor, at the lowest speed. You'll see it getting powdery at first and there will be large chunks of frozen fruit all over the sides. Just use a silicone spoon or spatula to scrape the sides down and continue blending.
Blend for roughly three minutes, and you'll see it turning into a very thick and smooth ice cream-like consistency. Take it out after a few more seconds of blending. The timing is important. Make sure not to go overboard because it might turn gooey.
Transfer to a container, line with aluminium foil, and freeze for another 20 minutes. This step is optional, it just helps with the consistency.
Take it out of the freezer, scoop it out, add your toppings, and dig in!
As the weather is getting warmer, I'm making bowls of nice cream to soothe those sugar cravings. Ice cream for breakfast? Turns out it's absolutely possible, and far easier and healthier than you would imagine!
---
Samyukta Kartik is a vegan chef, health & wellness enthusiast, and a food stylist/photographer. She believes in the power of a plant-based diet when it comes to healing, not only our bodies, but also our minds, spirit, and the environment. Animal welfare, public health, and social + environmental justice are the three pillars that she aims to build her life's work on. Head over to Instagram and follow @samwich.vegan to check out her creations, and also to stay tuned to what else is brewing.
---
Did you make this recipe?
Let us know: leave a comment, or tag @sprigandvine.in on your photos on Facebook and Instagram with the hashtag #goodfoodpractices