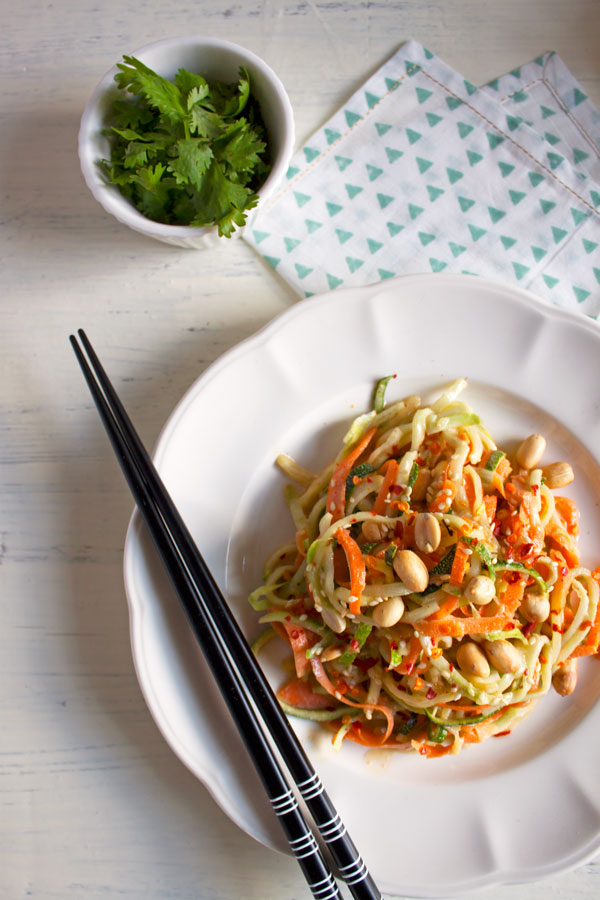 Zucchini is such an overlooked, unassuming veggie, usually appearing in the background of stir fries, Thai curries, or salads, without ever taking centre stage itself. I wish that zucchini was appreciated a little bit more, because it really is so versatile, and the mild flavour lends itself beautifully to both savoury and sweet creations!
There are so many new and exciting ways to cook with zucchini – add it to salads, stir fries, curries; grate it for 'roesti' or frittatas, bake them to make zucchini 'fries', spiralize them into noodles to make a noodle or pasta dish, bake zucchini muffins or bread… the list goes on.
My current favourite way to use zucchini is to spiralize them into thin noodles or "zoodles" as they're popularly called. I like to use them either raw in a salad, or lightly cooked and tossed with a pasta sauce to make a healthy, carb-free version for pasta night.
A spiralizer is a small handheld device that is the best way to make zucchini noodles, and they are easily available in India, on Amazon and with other online retailers. You can even use them to make noodles out of carrots, cucumber, sweet potato, beetroot, radish etc!
I've been making this salad with zucchini noodles a lot lately, and it's just so easy to throw together! Because it's really a bowl of veggies and on the lighter side, I like pairing it with a really creamy substantial dressing.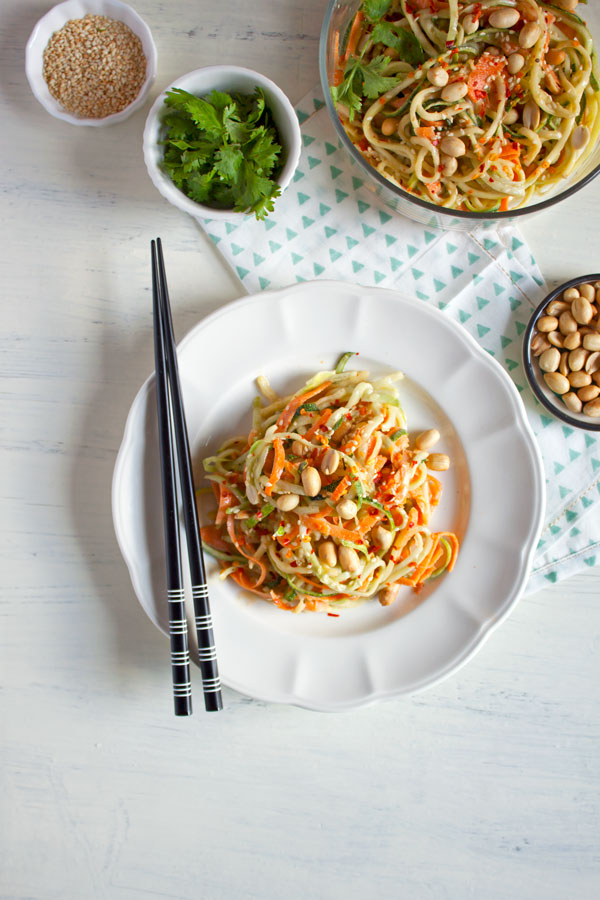 The dressing is just yum – it's sweet, spicy, creamy, salty, and basically will become one of your go-to salad dressings soon. The tahini makes it creamy and dreamy, and helps to coat the veggie noodles beautifully.
This is a great dish to make right now when the seasons are transitioning. It's a balance of the light freshness you crave during the summer, with the dressing and its creamy, rich, textures.
P.S. if you really hate zucchini, you can also add this dressing to regular pasta or soba noodles.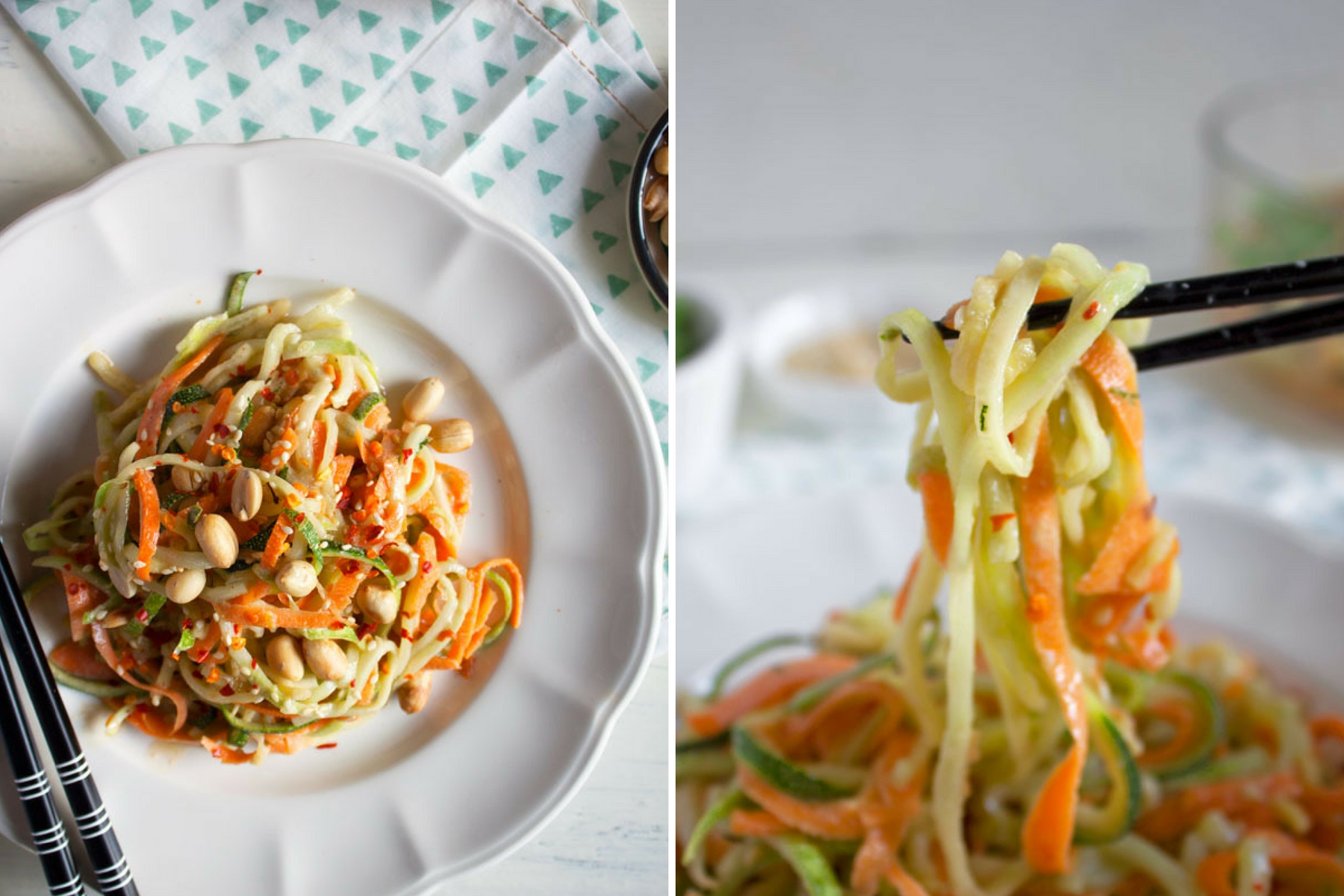 ZUCCHINI NOODLES WITH SWEET CHILLI DRESSING
INGREDIENTS
For the salad:
1 cucumber
2 small-ish carrots
1 large zucchini
A handful of peanuts
Sesame seeds, to sprinkle on top
A few sprigs of fresh coriander
For the dressing:
¼ cup rice wine vinegar
2 tablespoons soy sauce
1 tablespoon oil (sesame or olive oil)
1-2 tablespoons tahini
1 tablespoon honey
1-2 tablespoons sweet chilli sauce
1 tablespoon freshly grated ginger
3-4 garlic cloves, pressed or minced
A squeeze of lime
Pinch of red chilli flakes, to taste
INSTRUCTIONS
Prepare the cucumber, carrots, and zucchini noodles by using a spiralizer. (This is a very handy tool that is cheap and easily available online in India). Alternatively, you can also use a mandolin to thinly slice the zucchini and cucumber. Use a vegetable peeler to make thin strips from the carrot.
In a mixing bowl, whisk all the ingredients for the dressing. Taste and adjust the flavours. Add more vinegar or lime juice for zing, honey to sweeten, and sweet chilli or chilli flakes if you want it spicier. Add more soy sauce for saltiness, and tahini if you prefer a creamier dressing.
Place the spiralized veggie 'noodles' and a handful of peanuts in a large serving bowl and pour the dressing on top. Lightly toss, sprinkle with sesame seeds, and garnish with a few sprigs of coriander. Serve immediately! This salad also keeps well in the fridge but the veggies will not remain crunchy once the dressing has been mixed in.
*Note:
If vegan, substitute maple syrup/sugar/agave for honey in the dressing.
Use tamari (gluten-free soy sauce) if gluten-free.
Did you make this recipe?
Let us know: leave a comment, or tag @sprigandvine.in on your photos on Facebook and Instagram with the hashtag #goodfoodpractices