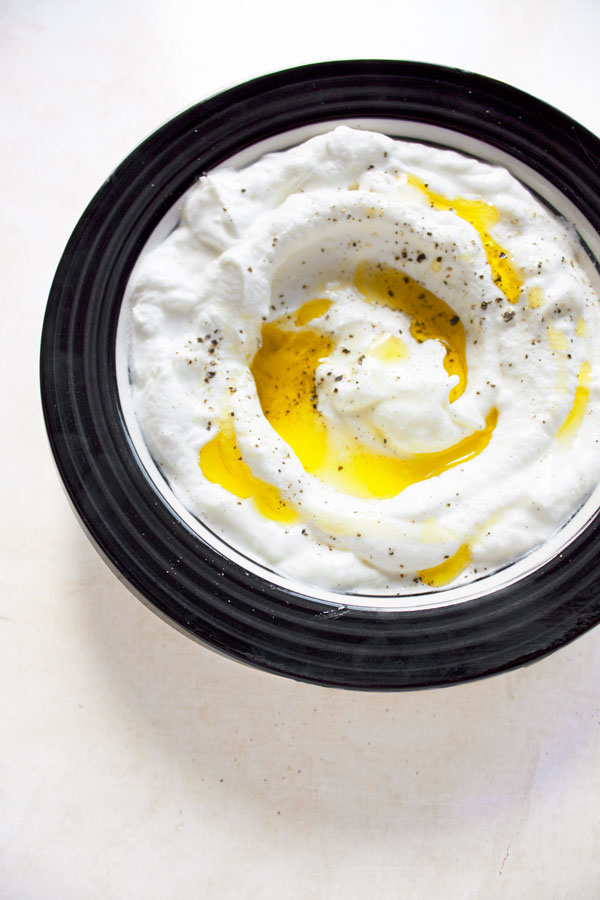 There's no denying my love for cheese, and the tangy, creamy, Middle Eastern labneh is no exception.
As with many of the things I now love, I was introduced to labneh in NYC. (Cafe Mogador in the East Village had one of the best labnehs). This mezze dish was one of my favourites (along with hummus), topped with olive oil, zaatar and some chopped herbs, served with crispy warm pita. SO good.
Also known as laban, labne, or labaneh; it's made from straining full fat yogurt. It is strained until it's even beyond Greek yogurt, to form a tangy, creamy, spreadable, and all round amazing yogurt-cheese. Top it with olive oil, chopped parsley, sumac, or za'atar and you've got a bowl of yummy, probiotic-rich, deliciousness. It features prominently in Middle Eastern cuisine as mezze, but there's so much more you can do with labneh.
It's basically like a healthier cream cheese, so you can use it as a spread in bagels and sandwiches. I love dolling spoonfuls of labneh onto dry cakes and muffins as a replacement for cream cheese or frosting. When mixed with some fresh herbs, garlic, and seasoning it makes an excellent dip for chips or crudités. I even use it in place of sour cream in my burrito or burrito bowls. Thin it out a little to use as a dressing for salads, or include a scoop of thicker labneh into grain bowls, or as a salad base (like this one).
If you drain the yogurt for 24 hours or more, it gets even thicker and more into a goat cheese like consistency. Roll it into balls, and top with olive oil and chopped fresh herbs for a perfectly yummy homemade cheese for your cheeseboard!
Once you discover the joy that is fresh labneh, you'll be making batches of it to keep in your fridge at all times. And you will eat all of it – for breakfast, lunch, snack time, dinner. Seriously, it's that good.
---
LABNEH
INGREDIENTS
200g plain yogurt
A pinch of salt
INSTRUCTIONS
Line a sieve with a cheesecloth or muslin cloth, and set the sieve over a bowl.
Place the yogurt with a pinch of salt in the lined sieve, and let it drain over the bowl for 6-8 hours in the refrigerator. You can drain the yogurt for upto 24 hours for a thicker, more cheese-like labneh.
Once drained, gently squeeze out any excess liquid from the yogurt.
Empty into a bowl and top with olive oil and black pepper or zaatar if desired.
Did you make this recipe?
Let us know: leave a comment, or tag @sprigandvine.in on your photos on Facebook and Instagram with the hashtag #goodfoodpractices