There's no denying my love for cheese, and the tangy, creamy, Middle Eastern labneh is no exception.
As with many of the things I now love, I was introduced to labneh in NYC. (Cafe Mogador in the East Village had one of the best labnehs). This mezze dish was one of my favourites (along with hummus), topped with olive oil, zaatar and some chopped herbs, served with crispy warm pita. SO good.
Labneh is made from straining full fat yogurt until it's even beyond Greek yogurt, to form a tangy, creamy, spreadable, and all round amazing yogurt-cheese. It features prominently in Middle Eastern cuisine as mezze, but there's so much more you can do with labneh.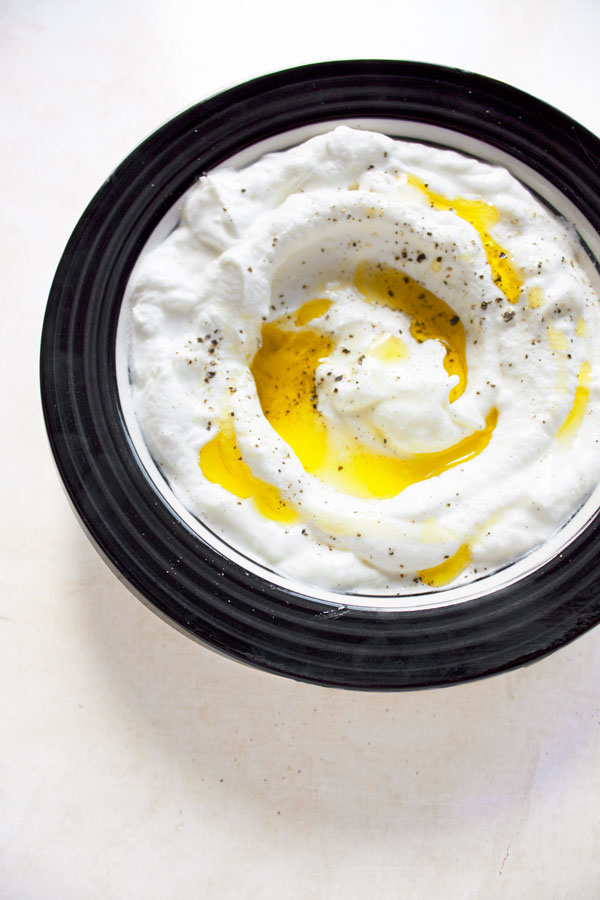 It's basically like a healthier cream cheese, so you can use it as a spread in bagels and sandwiches. You can also eat it instead of sour cream in Mexican dishes. You can even drain it for much longer (24 hours) so that it gets more of a goat cheese like consistency. Roll it into balls, and top with olive oil and fresh herbs for a perfectly yummy homemade cheese for your cheeseboard!
Once you discover the joy that is fresh labneh, you'll be making batches of it to keep in your fridge at all times. And you will eat all of it – for breakfast, lunch, snack time, dinner. Seriously, it's that good.
Now, though I can eat labneh with almost anything, I'm particularly fond of this beetroot & carrot slaw-style salad paired with the tangy yogurt. Since beetroots are in season currently, it's the right time to load up on them. They're rich in iron and immune boosting vitamin C, and if you're not too fond of the vegetable, this is an easy way to add them to your diet.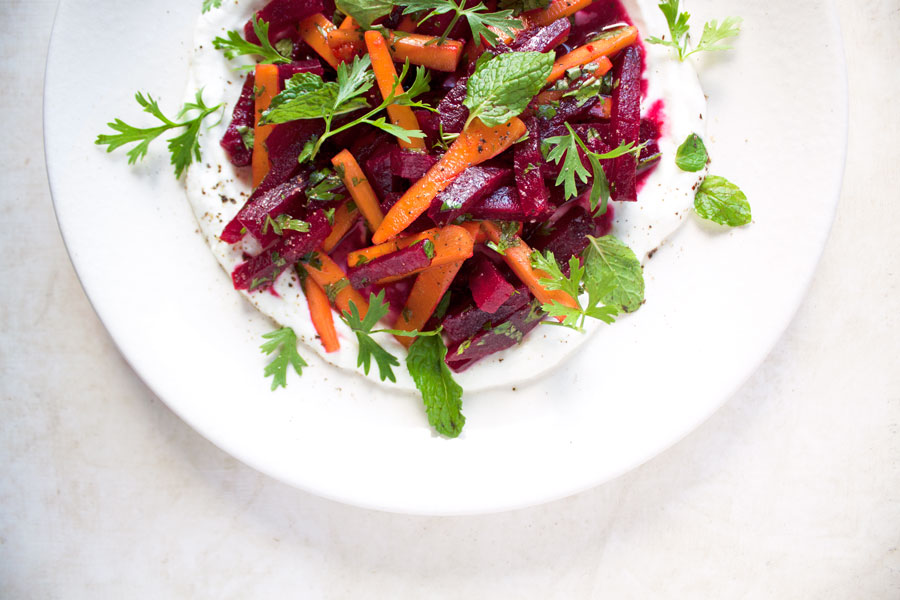 This salad is a good winter salad, and can be served as an appetiser or a side. It goes especially well with Middle Eastern food like couscous and stew, or grilled fish.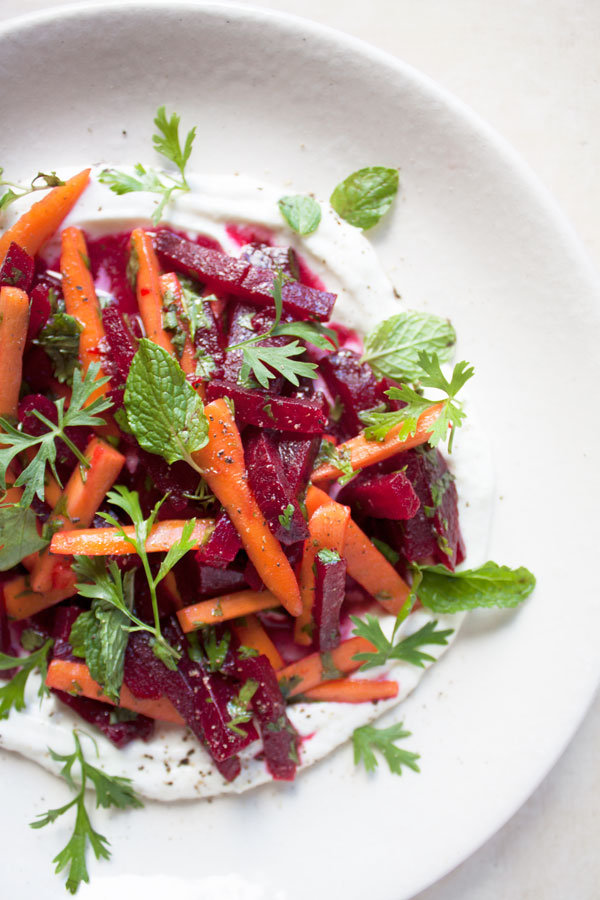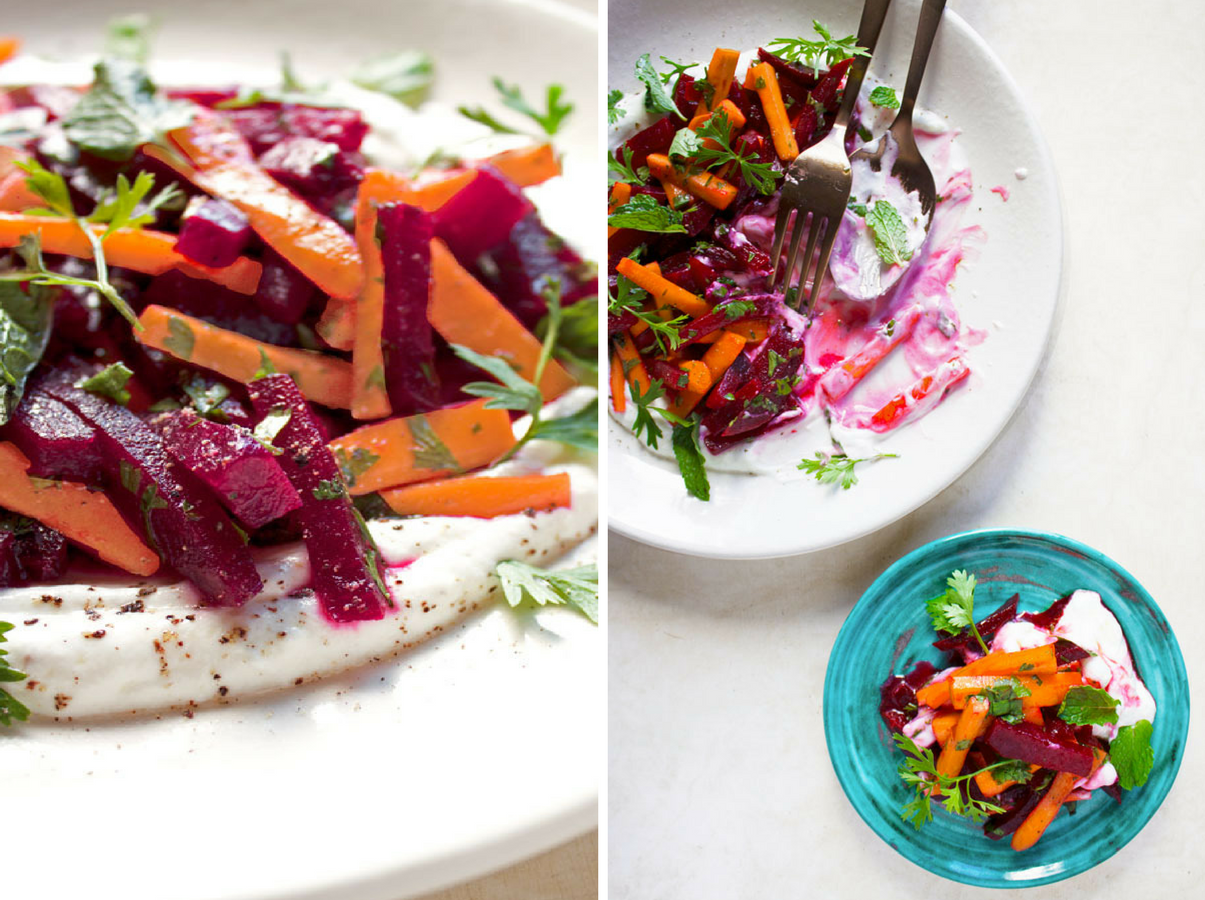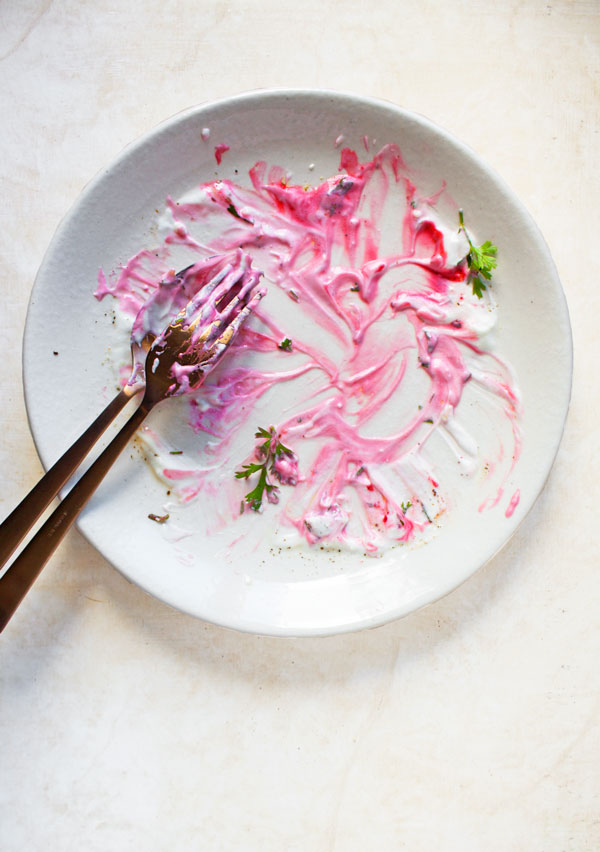 LABNEH WITH BEETROOT SALAD
INGREDIENTS
For the labneh:
200g plain yogurt
A pinch of salt
For the salad:
1 cup labneh or Greek yogurt
2 cloves finely grated garlic
2-3 medium beetroots, boiled
2 medium carrots
3-4 tablespoons olive oil
2 tablespoons red wine vinegar
Juice of half a lemon
2 teaspoons sugar
Salt and pepper, to taste
1 cup parsley, finely chopped
1 cup coriander, finely chopped
A handful of mint, roughly torn
INSTRUCTIONS
To make the labneh:
Line a sieve with a cheesecloth or muslin cloth, and set the sieve over a bowl. Place the yogurt with a pinch of salt in the lined sieve, and let it drain over the bowl for 6-8 hours in the refrigerator. You can drain the yogurt for upto 24 hours for a thicker, more cheese-like labneh.
Once drained, gently squeeze out any excess liquid from the yogurt.
Empty into a bowl and top with olive oil and black pepper or zaatar if desired.
To make the salad:
Prepare the labneh and top with some olive oil and finely grated garlic. Set aside.
Cut the boiled beetroots and carrots into similar sized matchsticks. Quickly blanch the carrots (optional).
In a bowl, place the beetroot and carrot matchsticks with the olive oil, red wine vinegar, lemon juice, sugar, salt, and pepper. Add the chopped parsley and coriander and mix to combine. Taste and adjust seasoning.
In a serving bowl or plate, spread the labneh on the bottom. Top the yogurt with the beetroot and carrot mixture, and garnish with torn mint leaves. Season with fresh black pepper before serving, either slightly chilled or at room temperature.
Did you make this recipe?
Let us know: leave a comment, or tag @sprigandvine.in on Facebook and Instagram with the hashtag #goodfoodpractices.