Ok, I'm obsessed with tacos. I mean, what's not to like? Delicious, colourful, savoury fillings with spicy zingy salsas… give or take a few large spoonfuls of avocado! All wrapped up in a soft warm tortilla. Back in New York, I was obsessed with the taco trucks and taquerias that are famous in the city!
Some of you might like the crunchy hard taco shells, but I prefer the soft tacos over the fried shells any day of the year. But whichever camp you belong to (crunchy or soft tacos), you can't deny how versatile and flavourful they are.
Traditionally, tacos are filled with grilled, smoky slices of meat, fresh salsas made from onions and tomatoes, and creamy guacamole. Vegetarian versions contain beans instead of meat. However, there's absolutely no need to stick to this classic combination when there are SO many great variations you can make!
As a general rule, I like to include one type of filling, something fresh, and something creamy/saucy in my tacos.
For these tacos, I used grilled portobello mushrooms, and paired them with quick pickled red cabbage.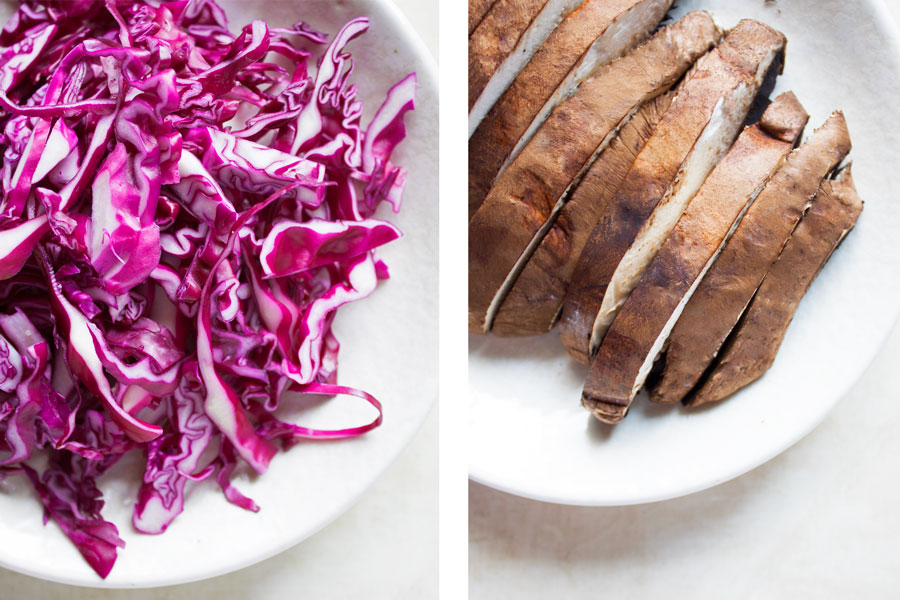 Chimichurri is a fresh, herby, Argentinian sauce that is usually served with grilled meat in South American cuisine. The "meatiness" of the mushrooms works really well with this chimichurri sauce, and I added some avocado to make it really creamy too.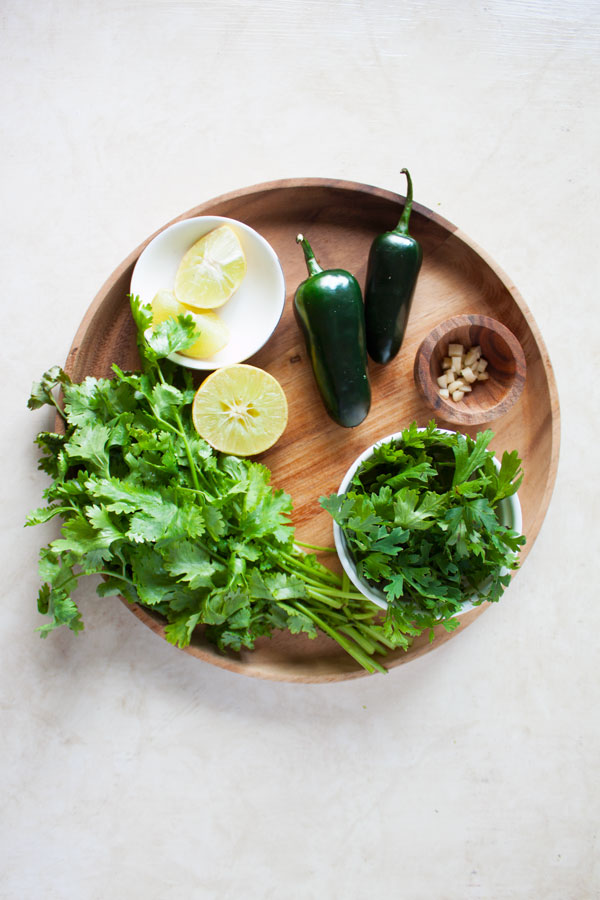 I love the slightly smoky, grilled mushrooms with the fresh cabbage… the colours just look beautiful! If portobello mushrooms aren't easily available where you live, this recipe works just as well with regular mushrooms too.
This is a great hearty and healthy lunch or dinner option, even for when you have company.
Make a few options for fillings (mushrooms, beans, potatoes) – add salsas and sauces – and let guests assemble their own tacos. Keep some chilled beer handy, and it's a taco party!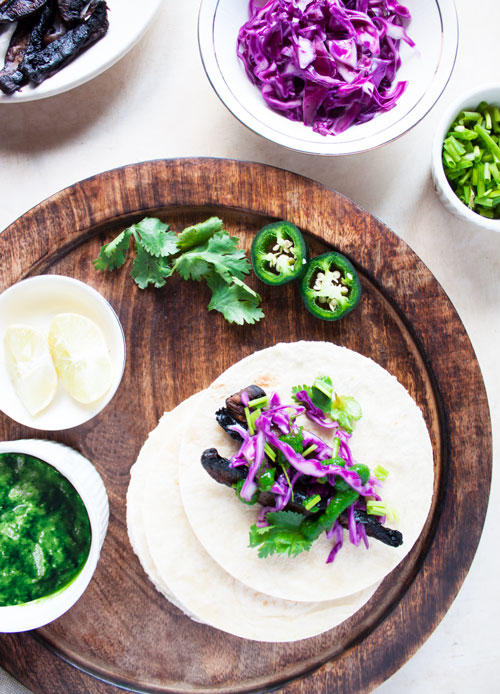 PORTOBELLO TACOS WITH CHIMICHURRI SAUCE
INGREDIENTS
For the chimichurri sauce:
1 cup flat-leaf parsley
1 cup coriander
2-3 cloves garlic, peeled and crushed
1 jalapeño pepper, deseeded and chopped (or as per taste)
½ medium avocado
3 tablespoons lime juice
1 tablespoon sugar
Salt, to taste
1-2 cubes of ice (to blend)
For the tacos:
3 portobello mushrooms
1 tablespoon extra virgin olive oil
Splash of balsamic vinegar
Salt and pepper, to taste
Smoked paprika, to taste (optional)
1 cup quick picked red cabbage
6 tortillas, slightly warmed or grilled
Optional garnishes: handful of coriander, chopped green onions, avocado slices
INSTRUCTIONS
For the chimichurri sauce, place all the ingredients in a blender. Blend until you get the desired consistency, scraping down the sides in the middle if required. For a chunkier sauce, give it only a quick blitz (ice helps maintain the colour, use water to thin if needed).
Taste and adjust seasoning: Add more lime juice for zing, jalapeño for spiciness, avocado to make it creamier, or sugar for sweetness. Remove the sauce into a bowl.
Prepare the mushrooms by removing the stems and wiping the caps with a slightly wet paper towel, and cut into slices.
In a small mixing bowl, add the sliced mushrooms, olive oil, balsamic vinegar, salt, pepper, and smoked paprika (if using). Toss to coat on all sides.
Heat a pan to medium-high heat. Once hot, place the mushroom slices in the pan and sauté (about 6-8 minutes).
Assemble tacos with lightly warmed tortillas, portobello mushrooms, pickled red cabbage, and additional garnishes, if using. Serve with the avocado chimichurri sauce.
Did you make this recipe?
Let us know: Leave a comment, or tag @sprigandvine.in on your photos on Facebook and Instagram with the hashtag #goodfoodpractices