Summer isn't over yet, and all I want are these gorgeous Vietnamese summer rolls.
Also sometimes called spring rolls, rice paper rolls, or salad rolls, these are so refreshing and kinda healthy too. Packed with crunchy vegetables, these are yummy when you dip them in a sweet, chilli, tangy, sour dipping sauce.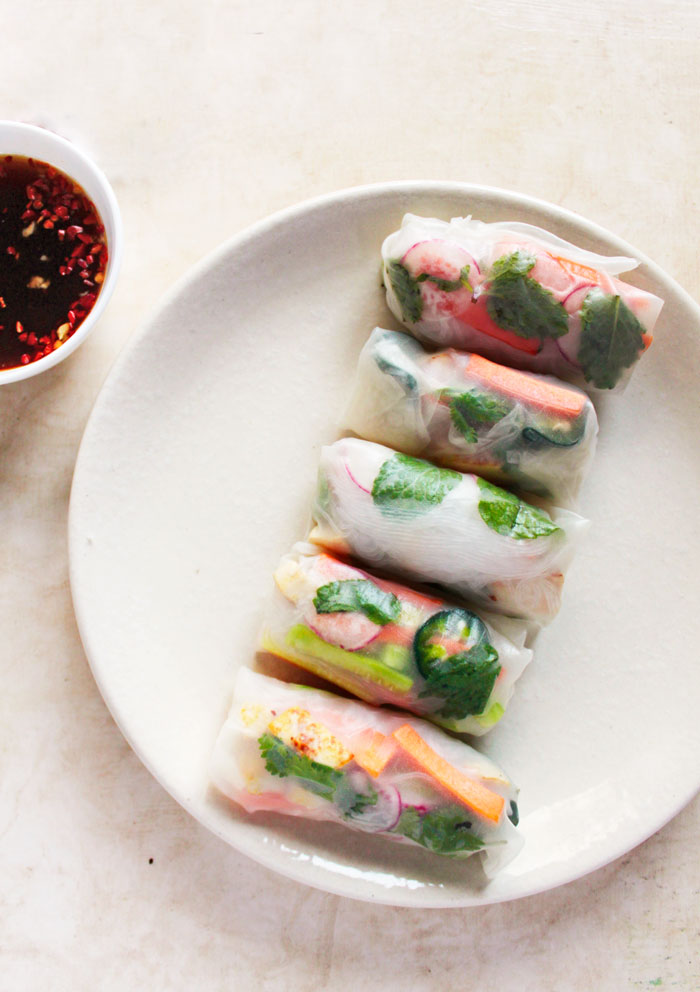 The flavours are so light and subtle, and I would pick these over greasy, fried spring rolls any day. It's basically a salad packed into a paper thin wrapper! The filling options are totally customisable too: just make sure to add something crunchy, herby, and filling (like the noodles).
I like to prepare my vegan summer rolls with a combination of cellophane noodles, tofu (for the protein), and crunchy vegetables like cucumbers, carrots, and radish. Add to it some fresh herbs like coriander and mint, a few slices of jalapeño for a spicy kick, and you've got yourself some delicious summer rolls. Traditionally, shrimp or pork is used as the protein element, so if you're not vegetarian, you might want to add some of that!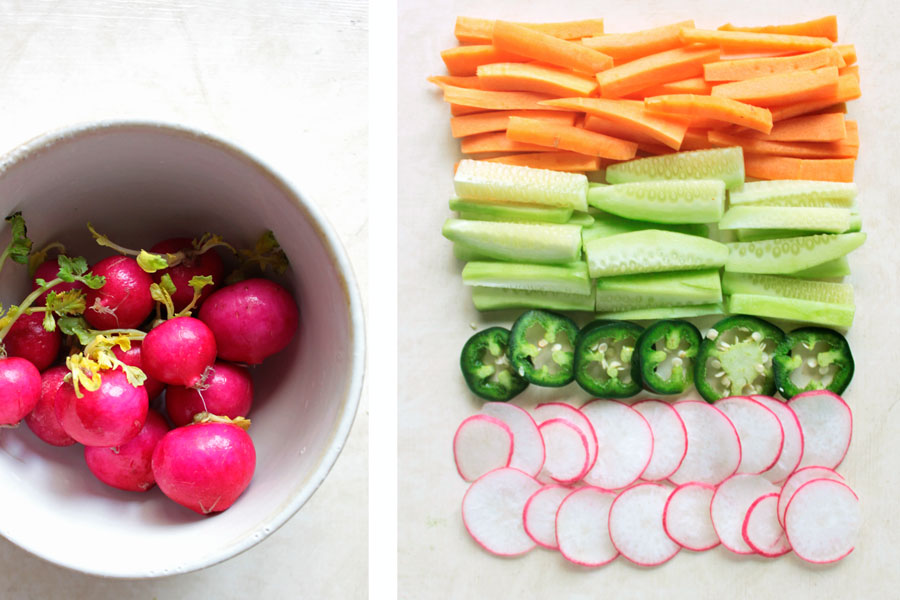 The veggies are quick pickled, and can be prepared in advance.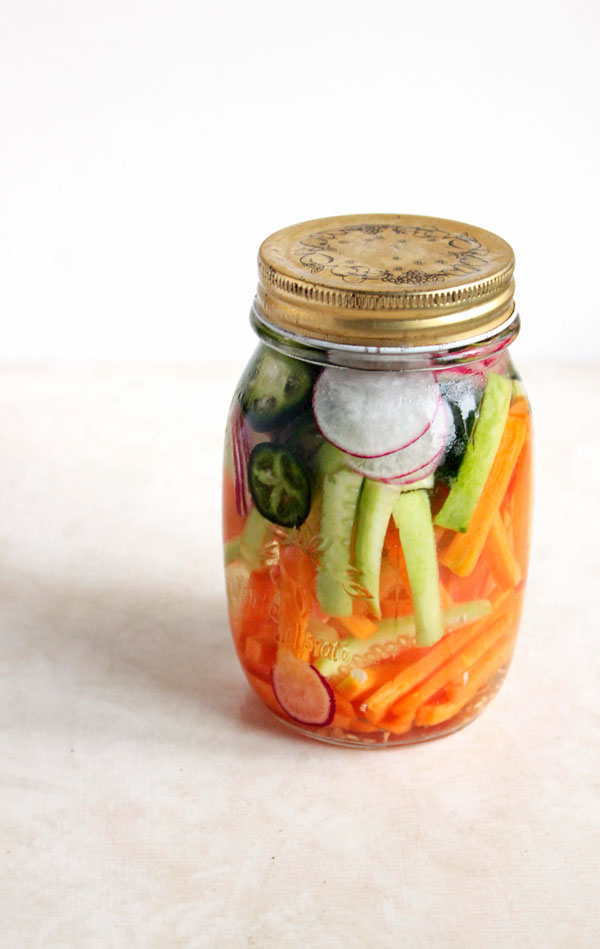 Make one recipe of the quick pickled veggies (find it here), and follow these tips for the ultimate in summer roll goodness:
Pick your mix of vegetables and fresh herbs
Use warm water to soften the rice papers
Work with one roll at a time as they can dry up quickly
Best when eaten fresh, served at room temperature (if you have to store them for a while, wrap them in a damp paper towel to prevent drying out)
Dipping sauce, not optional!! Make this yummy sweet chilli dipping sauce (peanut sauce is another classic but I prefer this tangy, chilli sauce for these rolls)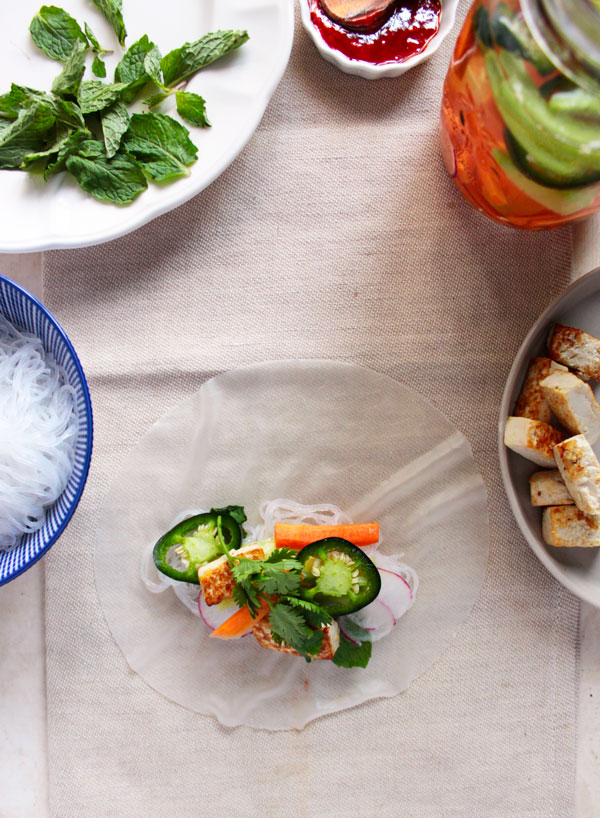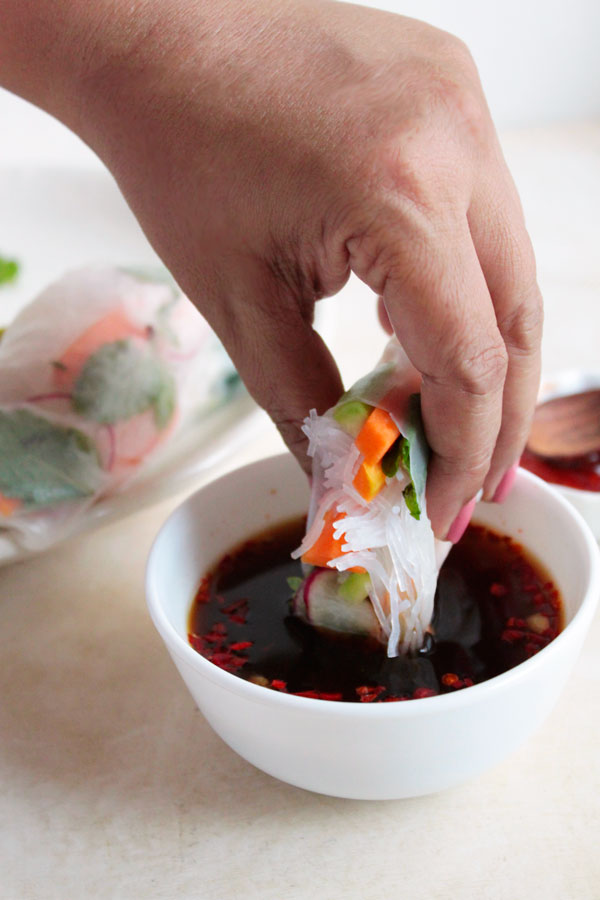 VIETNAMESE SUMMER ROLLS
INGREDIENTS
For the summer rolls:
6 rice paper spring roll wrappers
1½ cup pickled vegetables (1 carrot, 1 cucumber, few small red radish, 1 jalapeño)
A cup of cooked cellophane noodles
Tiny splash of olive oil
½ block firm tofu, cut into thick strips
1 handful mint leaves
1 small bunch coriander
For the sweet chilli dipping sauce (makes ~1 cup):
¼ cup rice wine vinegar
2 tablespoons soy sauce
1 tablespoon sweet chilli sauce
2 tablespoons lime juice
A little bit of sugar
1 clove garlic, minced or grated
1 teaspoon red pepper flakes
2 tablespoons warm water
INSTRUCTIONS
Make the recipe for the pickled vegetables (requires at least 1 hour of refrigeration, best done overnight). I used carrot, cucumber, red radish and jalapeño for this summer roll.
Cook the cellophane noodles by bringing it to a boil in a pot of lightly salted water. Take it off the heat once it comes to a boil and let it cook, covered, for 8-10 minutes.
Bring a medium sized pan to medium-high heat. Add one tablespoon olive oil, and lightly fry the tofu, a few minutes on each side until golden brown. Remove into a bowl.
Make the dipping sauce by combing all the ingredients in a small bowl. Adjust seasoning to taste, and chill until ready to serve.
Assemble the summer rolls: Fill a shallow glass dish with about an inch of warm water. Submerge one rice paper in the water for 10-15 seconds by pushing it down gently. Lay the softened wrapper on a clean kitchen towel or chopping board. Place a portion of the pickled veggies, noodles, a piece of tofu in the bottom third of the wrapper and top with some herbs (mint, coriander). Fold the bottom of the wrapper over the filling and gently tuck in. Fold the sides over the filling and continue rolling. The end of the rice paper wrapper should stick on its own. Repeat with the remaining wrappers.
Serve with the dipping sauce on the side.
Did you make this recipe?
Let us know: leave a comment, or tag @sprigandvine.in on your photos on Instagram and Facebook, and hashtag it #goodfoodpractices