This post is a part of Sprig & Vine's month of wellness: expect Good Food Good Vibes all January long! We will be posting content throughout January that will help you kickstart the year feeling well and good, with healthy eating hacks, feel-good recipes, and tons of wellness inspiration. 
---
Soup is the ultimate comfort food, whether you're in need of comforting or not. Easy to make and eat, and full of veggies and nutrients. It's a staple in my kitchen all year round, but especially so when the temperature drops and curling up at night with a steaming bowl of soup becomes my favourite hobby.
Laksa is a spicy noodle soup that is popular in Malaysia, Singapore, and Indonesia, as street food and comfort food. Curry laksa is the more popular one with a creamy coconut milk base, whereas the sour asam laksa has a tamarind-based broth. What I love about laksa is the flavourful laksa paste, fragrant with spices, ginger, and chile. The paste typically includes shrimp paste, which I substituted with soy sauce for my vegan version while keeping the same salty-umami flavour (if you're gluten-free, go with tamari). I also add a little nugget of turmeric root to the paste, both for turmeric's anti-inflammation properties and it's gorgeous golden colour.
This bowl of soupy noodles is all about the garnishes that accentuate the flavour of the soup. Crunchy cucumber matchsticks, salty peanuts, crispy fried onions, bean sprouts, mint and lime – a standard set of garnishes that provide a bolt of freshness to a comforting soup. Though sambal oelek is usually served alongside, the soup is pretty spicy on its own. Adding too much of it can destroy the flavour, so it's best to try it first before adding a little sambal to customise it per your liking.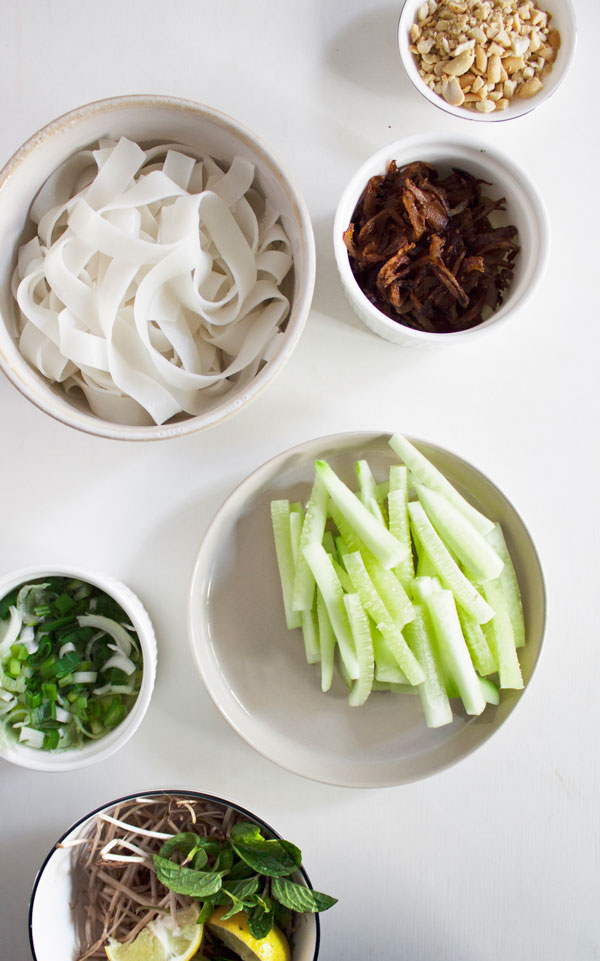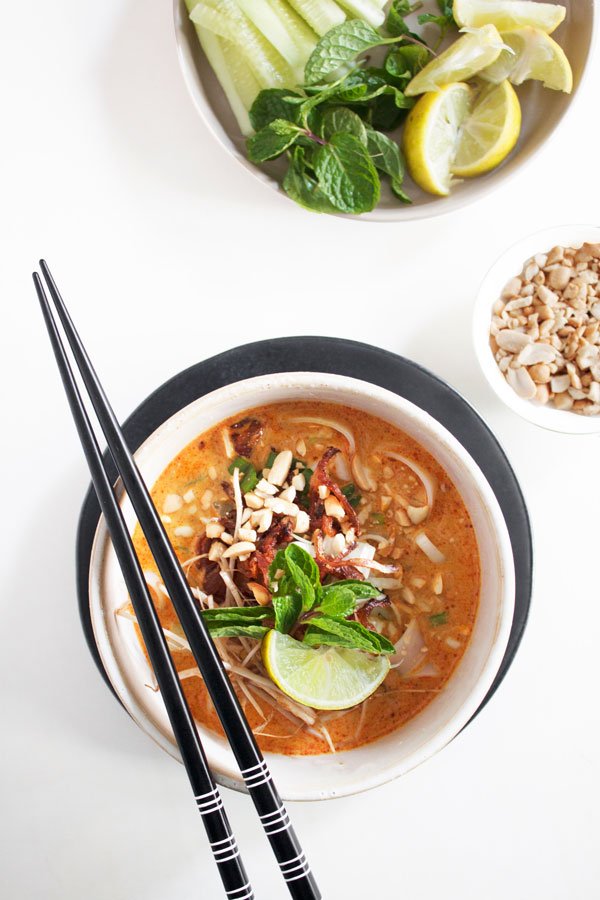 This is cold season's most delicious, heart-warming match — perfect for when you deserve a spa and spicy soupy noodles to put you to sleep.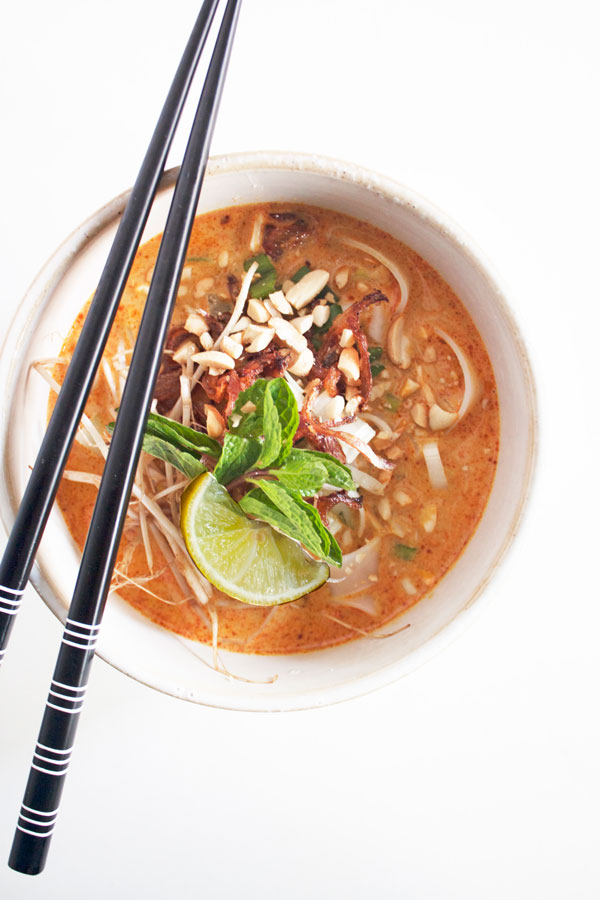 VEGAN CURRY LAKSA
INGREDIENTS
For the laksa paste:
4 dried red chiles
4-5 garlic cloves, unpeeled
1 2 inch nugget of ginger, peeled and thinly sliced
1 medium onion, chopped
3 lemongrass stalks, outer layers removed, chopped
1½ inch piece turmeric root, peeled and thinly sliced (or substitute with ½ teaspoon ground turmeric)
½ tablespoon ground coriander
1 teaspoon ground cumin
2 teaspoons curry powder (or make your own: mix ground coriander, ground cumin, ground ginger, ground cardamom, ground cinnamon, red chilli powder, ground black pepper, and dry mustard)
Salt, to taste
2 tablespoons light soy sauce
¼ cup vegetable oil
For the soup:
2 tablespoons vegetable oil
500 ml coconut milk
2 cups homemade vegetable stock
2 cups of chopped veggies (a mix of carrots, long beans, broccoli - optional)
2 teaspoons brown sugar
Salt, to taste
To serve:
Wide rice noodles, cooked according to package instructions (not vermicelli)
2 medium cucumbers, cut into matchsticks
Bean sprouts, crispy fried onions*, chopped green onions, mint leaves, crushed peanuts, lime wedges, sambal oelek
INSTRUCTIONS
To make the laksa paste:
Place the dried red chiles in a small bowl and cover with boiling water. Let it soak for 10 minutes, until soft. Remove stems and seeds.
Meanwhile, heat a dry pan over medium high heat and toast the garlic and ginger, stirring occasionally until slightly charred. Remove from heat. Peel the garlic cloves.
Purée the chiles, garlic, ginger, onion, lemongrass, turmeric, spices, soy sauce, and vegetable oil in a blender until it forms a smooth paste.
To make the soup:
Heat oil in a large saucepan over medium-high heat. Add the laksa paste and cook, stirring often until paste is slightly darkened, about 2 minutes. Add half of the coconut milk, and cook for 5 minutes until little reduced.
Add remaining coconut milk, vegetable stock, any veggies (if using), and let it come to a boil. Reduce heat and let it simmer for another 10-12 minutes. Add brown sugar and salt, taste to adjust seasoning.
Divide noodles among the bowls and ladle soup over it. Top with cucumber matchsticks, bean sprouts, fried onions, green onions, mint leaves, and serve alongside crushed peanuts, lime wedges and sambal oelek (if using).
*Note:
For fried onions: Thinly slice 1 medium sized onion and coat with lemon juice. Heat vegetable oil in a pan over medium high heat, and fry the onions until crispy and browned. Remove from heat and lay on a paper towel to absorb excess oil.
You can easily double or triple the paste recipe and freeze the remainder for easy weeknight laksa!
---
Love soups? You might also like this Spicy Asian Broth, or creamy Pumpkin Soup. 
Did you make this recipe?
Let us know: leave a comment, or tag @sprigandvine.in on your photos on Facebook and Instagram with the hashtag #goodfoodpractices